Brushes (II)- Want
Friday, November 13, 2009
So once you have the basic brushes, there's a few extra ones that make life a whole lot easier. I love having these brushes because it can get pretty tiring of using the same brush for multiple purposes, washing and drying them over and over is kind of a bitch.
Eye Blender Brush- There's really two different kind of eye blenders. The first is flatter, and has a rounded tip like so. This one is the MAC217 brush.
It's a bit pricey at $22.50 so I've found a few cheap alternatives.This is actually an artist's brush, made by Loew Cornell. It's a 1/2 Maxine Mop made of goat hair and you can find it on Amazon.
This is from CostalScents.com (If I could marry a website, this would be the one). It's a bit softer than the MAC217, but at $3.49 it will serve any savvy penny pincher just as well.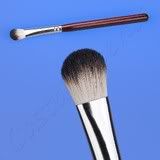 The second type of eye blender brush has longer fibers and round with a slightly tapered end(or just a round end). Looks something like this MAC222.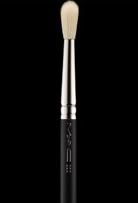 Again, a similar one from Costal Scents for $2.95. Being too soft is the only complaint I would have for CS brushes, so a little less control.

Lip Brush- Preferably the retractable kind, so you can stash it in a bag for on the go touch ups of lipsticks.

I prefer lip brushes made out of synthetic material because natural hairs tend to fall out more and stick to your lips. And nobody likes hair in their mouth.
Fan Brush- When you apply eyeshadow, there's usually some that falls off and sits on your cheeks, this brush is fantastic for lightly dusting it away. Also great for applying the lightest hint of bronzer or highlighting powder. If your fan brush comes with a plastic guard,
keep it
! It'll protect the hairs from getting bent. This brush is really easy to find at art supply stores for under $5.
Angled Eyebrow Brush- I like having two flat angled brushes, one smaller synthetic for eyeliner and another slightly bigger one made of natural fibers for eyebrows. Either use this brush to apply eyebrow shadow or for blending in eyebrow pencil. You want bristles that are firm but not too stiff, that will help control any products used. Again, head to your local Michael's or AC Moore for a big selection of cheap brushes.
Foundation Brush- Flat, synthetic with rounded tip. Only really useful for applying liquid foundation. Artist brushes make the best foundation brushes.
A Lasting Love With Your Brushes- Take care of them like they're your own infants.
Deep clean them with brush shampoo at least once every two weeks. Your face will thank you for it. Can you imagine all the bacteria, oil and skin cells that end up in your brushes and marinate there day after day? I recommend washing any brushes that touch foundation, concealer and lip products even more often because those products often contain different oils and can get pretty cakey on the brush. In addition, you want to do slight cleaning routine every day. Quick brush cleansers usually contain higher levels of alcohol so that they dry faster. I myself am guilty of not sticking to this- most of the time when I'm putting on makeup I'm in a rush. But this is essential if you use lots of different colors, you wouldn't want to end up with brown eyelids because you mixed up 3 days worth of bright colors on your eyeshadow brush would you?
Here's a recipe for brush shampoo. I'm not paying $11 dollars at MAC or $6-9 at Sephora for a bottle of the stuff when there's all the ingredients sitting at home. Enkore on YouTube has a great video for making some, but here's my simplified version (his version uses leave in conditioner, but why use that when you can use the regular kind?)
Brush Shampoo
1 empty bottle (I used an empty Clinique makeup remover bottle)
1 cup hot water (hot enough to dissolve shampoo and conditioner)
1 tablespoon conditioner
1 tablespoon shampoo/Johnson's baby wash or 1 teaspoon dish detergent (it's much more concentrated)
1 tablespoon rubbing alcohol
Don't bother using measuring spoons, just eyeball it. It's not worth doing dishes for.
Squirt the shampoo and conditioner into the empty bottle and pour in the hot water. Put the cap on and shake it up until everything is completely dissolved. Add rubbing alcohol. See, ridiculously easy.
I pour a tablespoon of the shampoo into a shot glass and swirl the brush around the bottom. Then I take it out and massage the suds through the fibers and rinse with cold water. You can shape them while they're wet back to their original shapes, but don't ever set them in a cup to dry! The water runs back into the metal part where the hairs are glued in and it can grow mold in there.
If any of your brushes get really frizzy or terribly out of shape(like I am), I suggest coating it with conditioner and shaping it, th
en letting it dry. Then the next day, rinse it off in cold water.
I'm working on a recipe for daily quick brush cleaning (which will probably come in installation III of Brushes-Super Want), similar to Bare Escentuals Quick Change ($18 for 3.7oz) but a cheap version is E.L.F's Daily Brush Cleaner ($3 for 8.5oz).