stock image from aveneusa.com
Is there such thing as a miracle product for acne?
Yes, I'd say so- I've finally found mine. Acne has been troubling me for the majority of my life, ever since I was nine years old. There's been times when I had the whole pizza-face thing going on (that's how bad scarring and cystic acne was for me in my early teens) and times when I only had a handful of zits, but they were always there.
I've tried practically every line of acne care products found in American drugstores- over the counter benzoyl peroxide and salicylic acid products just haven't really proved effective for me.
Behold, Avene Diacneal.
What it is: a treatment lotion containing 6% Glycolic Acid and 0.1% Retinal for acne or wrinkles. It comes out of the tube as a pearly yellow cream that smells like... I'm not sure. But it's definitely scented.
First, I have to say that my skin is quite sensitive. When I try a new product, there's a good chance that it'll make my skin worse, not better. Heck, my skin is so sensitive that if I even LOOK at a product funny, I'll break out or it'll burn, etc.
Not only did this treatment get along with my skin, I've seen amazing results. My skin is overall clearer, more even and much, much smoother. Really.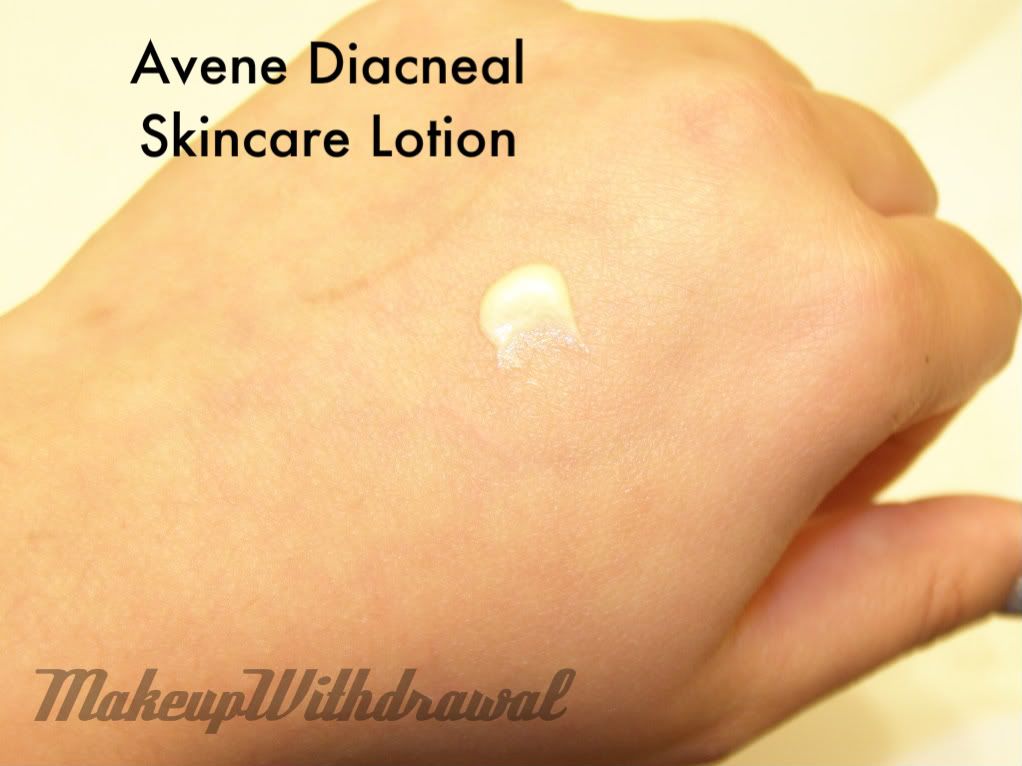 I'm not completely blemish free (due to diet and hormone fluctuations, I doubt I'll ever be) but I'm no longer super self conscious about a few minor zits. It's no longer a matter of being embarrassed to go out without concealer because my acne is such a prominent feature of my face and the first thing people see when they look at me. Even when I do get acne, it clears up much faster now. I've also noticed that past acne scarring has been reduced, and that the texture of my face has changed for the better (this also works as a wrinkle reducer!).
Now, I started using Diacneal about two months ago, at first every three days, at night- increasing to every other night in the last few weeks. The reason I use it at night is because that when I put it on, it does seem to make my skin a little slick feeling. Not saying that it makes my skin oily overall, but if I put it on at night, I can wash away the treatment in the morning.
Ingredients:
Water, Cetyl Alcohol, Cyclomethicone, Polysorbate 60, Glycolic Acid 6%, Alcohol, Sodium Hydroxide, BHT, Dimethiconol, Fragrance, Polymethyl Methacrylate, Potassium Sorbate, Red 33 (Cl 17200). Retinal 0.1%.
Also be aware that products such as this one will increase skin sensitivity to the sun's rays. Anyways, Avene Diacneal isn't super cheap for an acne treatment, $52 for 1 oz. on SkincareRx.com. But let me tell you, I have never found a product that has made more of impact on my skin, so it's worthy every penny. One tube has lasted me 2 months so far, and I estimate that it'll go for another month at least, even though I spread a thin layer all over my face for every application.
So, lengthy review. What do you think? Have you ever tried this, or any of Avene's other products?
Product was purchased by me, for my own use
.