BECCA Fine Loose Finishing Powder
Wednesday, March 16, 2011
Good Day to You, Dear Reader!
A friend of mine recently showed me a few listings for Becca Fine Loose Finishing Powder in various shades on eBay. My shade happened to be one of them so rather impulsively, I decided to try it out and ordered in Sesame.
I was pretty intrigued by the packaging, like the Pressed Shimmer Powder from Becca that I own, it had a neato spaceship looking dome. As interesting as it looked, the packaging turned out to be the worst part of this powder. But first, the powder itself.
It's very finely milled (as the name implies) and gives me this great satin finish that looks super natural. It really does set foundation perfectly though on my oily T-zone my skin quickly looked greasy less than a half an hour later (in comparison, Rock & Republic Pressed Powder lasts about an hour and a half before I get shiny) so it might not be your best bet if you tend to be oily.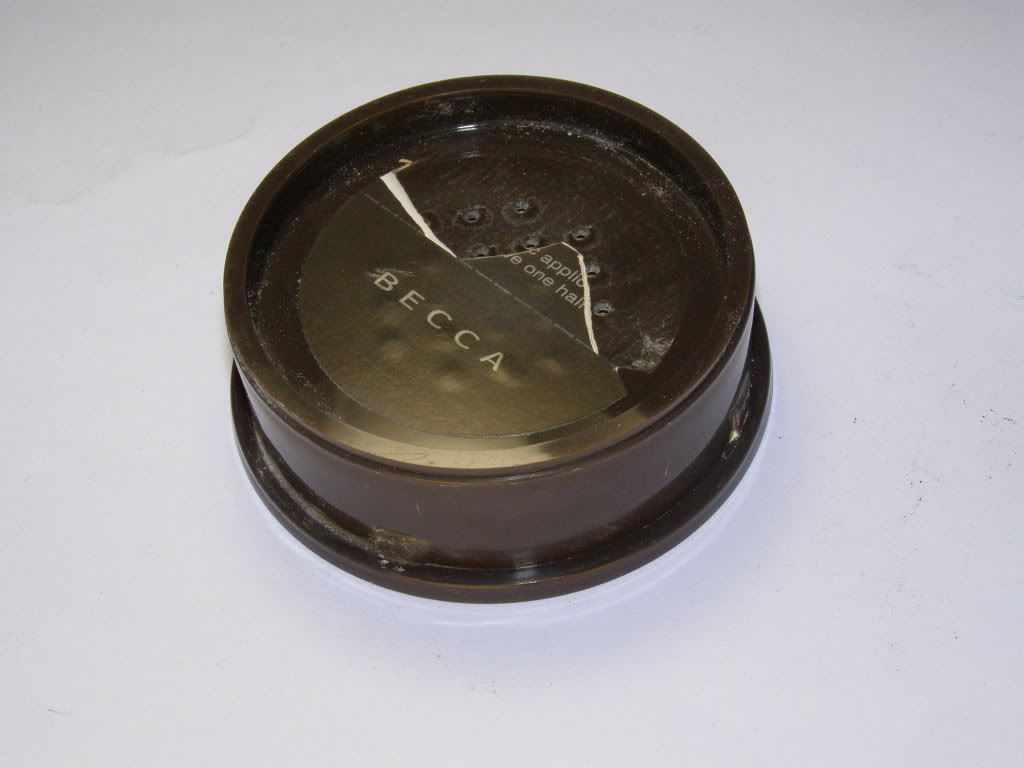 Inside of the powder! See the sticker over the sifter?
The instructions printed on it told me to only tear half of it off!
I also found that this Becca powder worked great at buffing out over zealously applied blush. I simply take a large fluffy brush and a sprinkling of this powder and whisk away any clown cheeks. It seems like no matter how much I put on of this powder it doesn't really cake up, which is ideal for those going for the flawless and natural look.
Ugh, about the packaging. Though very attractive, it's rather nonfunctional. I can never ever get the lid to screw into the base, which means it's rattling around loose my makeup drawers constantly and getting powder on everything. There's holes in a sifter to allow product through, and the instructions say to only tear off the sticker half way to let the right amount through. I find this kind of ridiculous, how about instead of keeping tape on half the container... Becca makes a jar with less holes? Or smaller ones? I hope my packaging is defective, because I certainly can't imagine anyone wanting to travel or ever putting it into their bag. It'd be a catastrophe.
All in all, I find this product so-so. It applies nicely, but it just isn't really suited for my skin type and the packaging is terrible! I don't think I would ever pay full price for this again.
Have you by any chance tried out this powder? I found that in recent years it seems like it's harder and harder to find Becca products (ever since Sephora stopped carrying them, at least!)
Product featured was purchased by me, for my own use.