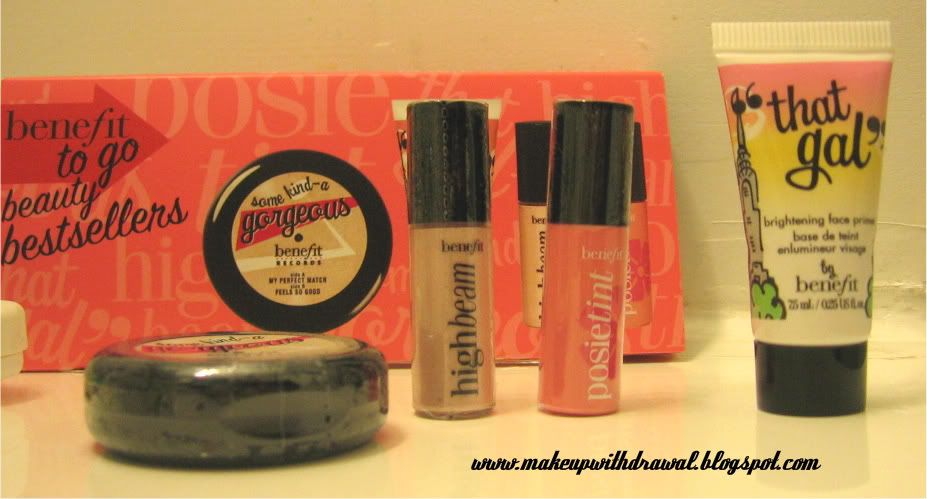 One of the many Sephora emails I get prompted me to browse through a few $10 dollars or less items that they had, and I walked away a happy camper. Possibly the best thing I purchased was a BeneFit best sellers sampler pack. It contained a little compact of Some Kind-A Gorgeous, a little tube of High Beam, a mini Posietint and a small bottle of That Gal.
Here's the break down for those who've never tried BeneFit's products before.
Some Kind-A Gorgeous- is not a true foundation- but actually a primer/foundation mix. It's in creme form and is very light to the touch. This is great for people who usually use tinted moisturizer and want to move to the next step closer to true foundation. I think people with oily skin will find that it a little too sheer, and that it doesn't stay for very long. I have combination skin and the best use I found for this was to keep it in my purse for convenient touch ups- while haul around powder, foundation, or concealer when you have this? I absolutely love it. One other problem is that the full sized product doesn't come in many shades, just one tan and one light formulas. I wish they could accommodate women with dark skin tones.
High Beam- A cult favorite. I too, truly love this highlighter. It's a beautiful pinky pearl shimmer liquid that looks great on brow bones, cheek bones and the bridge of your nose. I find that the full sized product is a little too expensive for me ($24 for 0.45oz) but again, this sampler is so easy to keep in your purse, so that you can look fabulous on the go.
That Gal- It's supposed to be a brightening face primer. This is actually the product that I didn't like all that much out of the four. I didn't really see any brightening what so ever nor did I feel like it did the job of priming. It's a great deal though- the normal sized That Gal is only 0.37oz and this trial size alone is 0.25! I think it might work best on super pale complexions, not medium, olive or dark tones.
Posietint- The best for last! I'm a bit iffy about stains- I always thought the dark tones made me look brooding and sallow- and I haven't met a light color that I liked...until now! Posietint straight out of the bottle looks bright Barbie pink, which scared me a little bit. But on my lips, a few small dabs give me naturally flushed lips that I love. Too much of it though, will make me look very tacky. A word of advice about applying this to the cheeks- apply the tiniest bit with a foundation brush that already has a bit of foundation in it- that'll apply it evenly instead of blotching it- you don't want to look like you have a bad rash on your cheeks!
This is the BEST sampler that I have purchased yet, all of these products now travel with me all the time- you really don't need anything else for touch ups.
Cost
: $10 at Sephora