A Salute to Youth
There's no better universal girly look than pink eye shadow. I do declare that this look can make anyone look as sweet as icing. Believe it or not, I have seen pink eye shadow go horribly wrong on one occasion (Pink eye, anyone?) To make sure that you don't appear as though you've got a swollen eye, pick out a pink that melts into your skin. Usually, that means a peachy pink, and if you have one that has gold shimmer, that's perfect! If you don't- you can supplement it with a soft gold, not too yellow but more beige than metallic (Try Sally Girl mini baked shadow in Gold or Ulta brand eye shadow in Aztec Gold). We're really pushing youth and glow here.
Let's begin with finished skin- all the primer, concealer, foundation etc has been applied (check out my stippling foundation guide for step by step instructions on this airbrushed skin).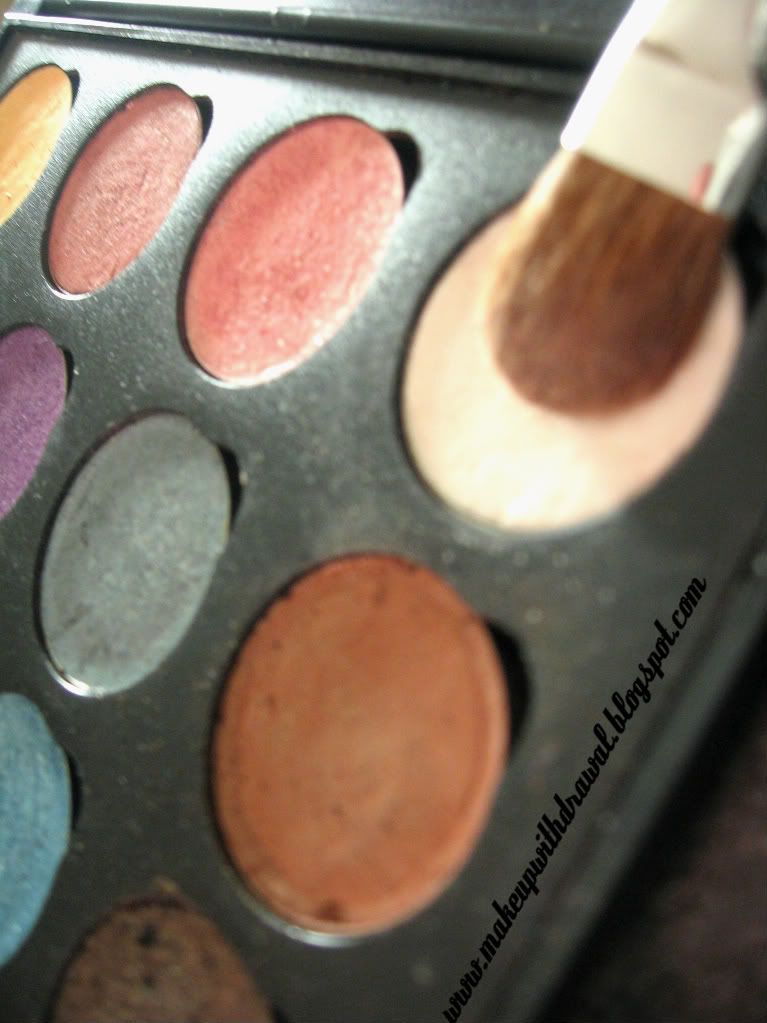 First up, pat a eye primer onto your eye lids with a finger and let it dry. Apply a white eye shadow all over the lid, from your eye brows down to the lashes, then layer a fine gold (like Coastal Scent's Inter Gold) over the white with a large fluffy eye shadow brush.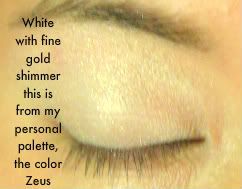 Make sure to tap off any excess powder during this step, because nothing looks chalkier than white eye shadow! With the gold shimmer on top of it, this will really give your eye dimension, especially when we add the other shadows. Next, we'll take a bit of that pink/gold with a small eye shadow brush and lightly pat it onto the center of the lid, onto the ball of the eye. Be sure to blend that out on either side, toward the inner and outer corners of the eye.
Next, take that light beige gold (here I'm using my all time favorite gold, Sally Girl mini baked shadow in Gold) and apply it starting from the inner corner towards the middle of the eye, blending where it meets that lovely soft pink. On the outer corners, with a small smudge brush, tuck in the tiniest bit of magenta shadow, just to help emphasize the pink (or you can use a berry colored blush or dark pink blush) just like the diagram below.
To complete the eye makeup, rim the upper water line with black liner, which is a little tricky! You have to try to apply eye liner with your main hand while the other hand holds up the lashes. If you're uncomfortable with this step, just take a small stiff liner brush and blend a bit of liner into the upper lash line. Then on the lower lash line, only apply liner about a quarter of the way in. The reason we're going for inconspicuous liner is that we want it to seem as though we aren't wearing any- that's the secret of youthful looks- it looks like minimal makeup is used. Finally, one light coat of black or brown mascara if you have thinner lashes, fuller ones can use just a coat of clear or none at all.
You might notice that in the pictures, there's a bit of shimmer fallout under my eyes. I fluffed most of that away with a large face brush, but I didn't worry too much if there was a little left over, it added another element of interest to this look.
I also swiped a bit of matching peachy pink with gold shimmer blush- (like your classic NARS Orgasm or Milani Luminous- it's an echo of the eye shadow color we're using), with a fan brush and lightly applied it to my temples and swept it down to the lower half of the apples of my cheeks. The tiniest bit will do- we want a warm glow, not a flustered pink face. For the lips, I stained them with a tiny bit of BeneFit Posietint for natural looking baby pink pout.
All done! The end result is a beautiful soft glow, with a gorgeous golden pink sheen on your eyelids.