EOTD with Bright MUFE Shadows!
Wednesday, December 8, 2010

I did my friend April's makeup today. I wasn't too pleased with how the face turned out with the foundation and all, but I did like the eyes, so I took some pictures! Unfortunately I only had my cell phone, so the picture quality isn't super great.
Used: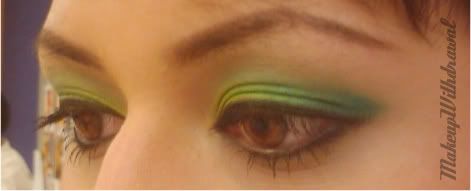 Brows: MAC Brow Shader in Walnut/Malt
Eyes: MAC Soft Ocher Paint Pot, UDPP, Hi Fi Cosmetics High Impact, Make Up For Ever Shadow #171, Make Up For Ever Shadow #83, MAC Clarity shadow, Prestige Total Intensity Deepest Black liner, True Cosmetics Hy Performance Mascara
Thanks April for modeling!