China Glaze Tronica Re-Swatch and Comparisons (Sunlight)
Hello Readers!
It took me a while, but I finally got the sunlight Tronica pictures done. I normally leave home at 8:30am and get home around 5:00pm, which means in the winter- my only window of opportunity to photograph swatches is during my lunch or on the weekends.
So all this week I brought my polish and camera to class. My friends were greatly amused by my efforts to paint each shade with the comparisons and photograph them. Needless to say, this second round of swatching pretty much killed my already suffering cuticles- but I hope my efforts were not in vain! Hopefully someone will find these pictures helpful.
All of these were done without top coat, in direct sunlight.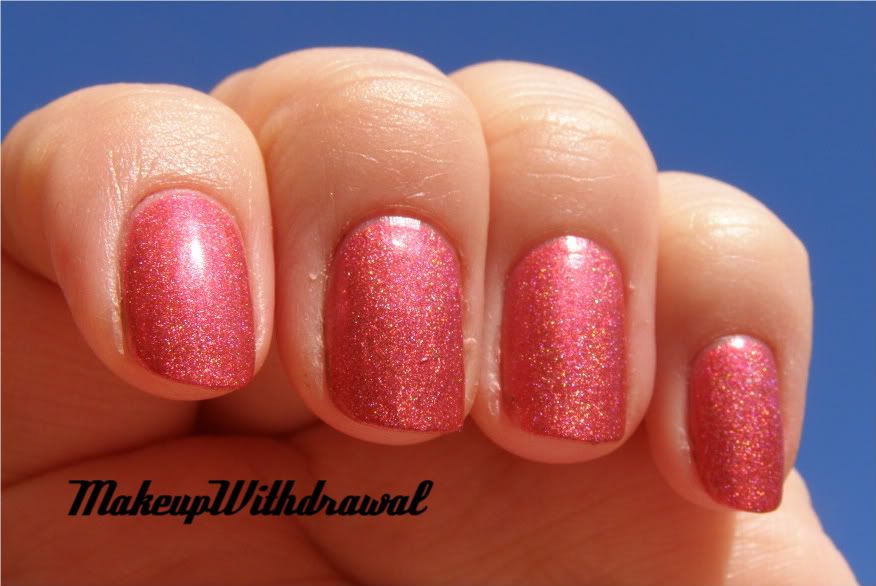 3D Fantasy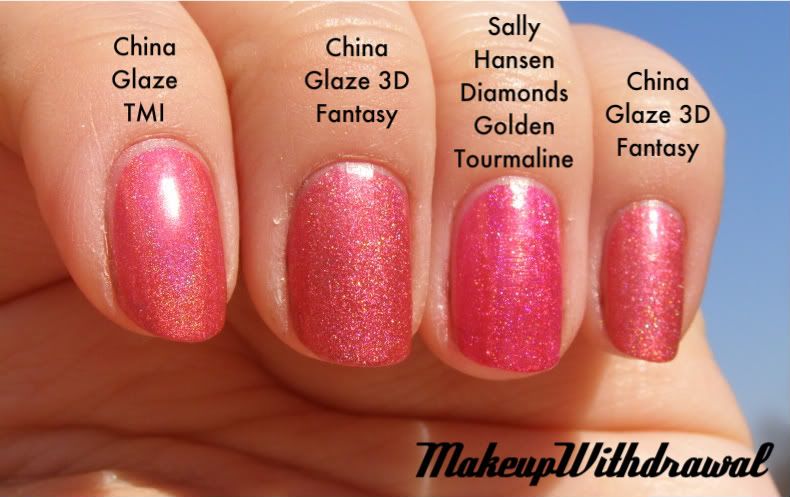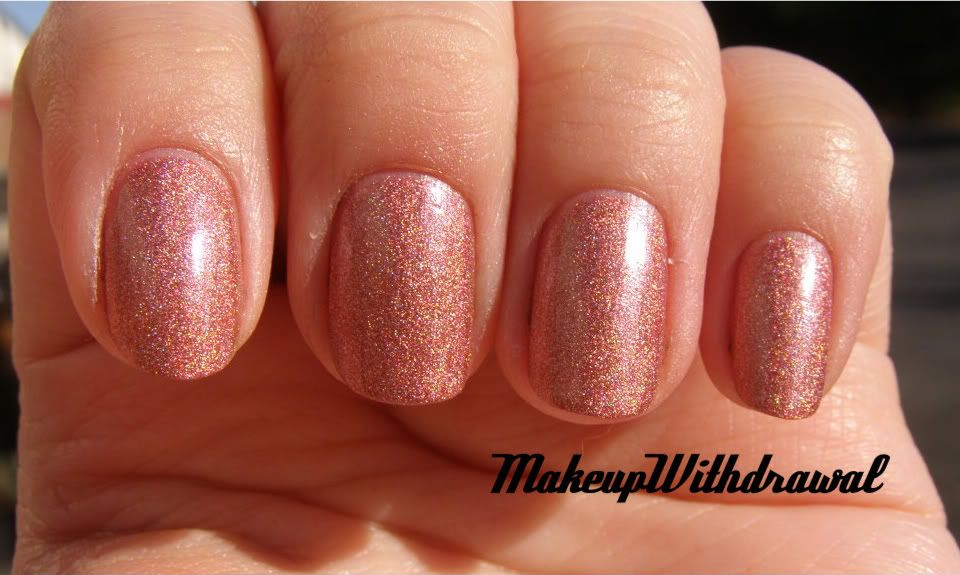 Digital Dawn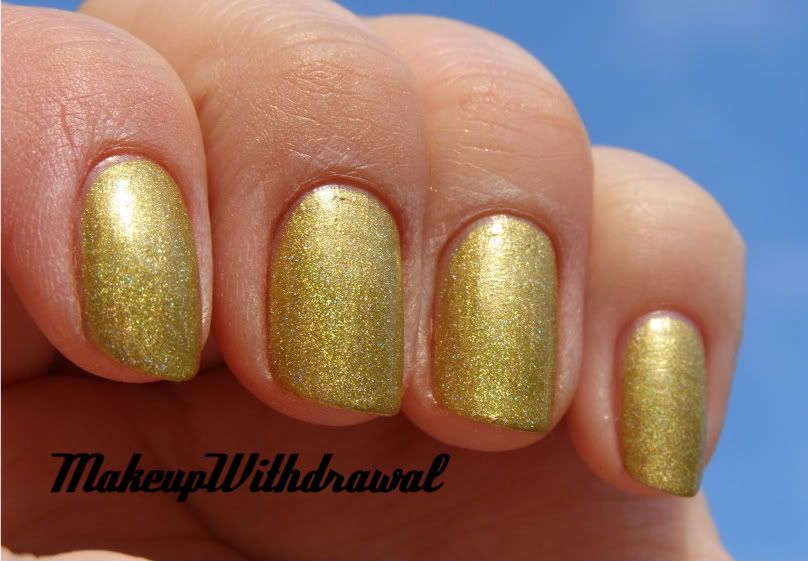 Mega Bite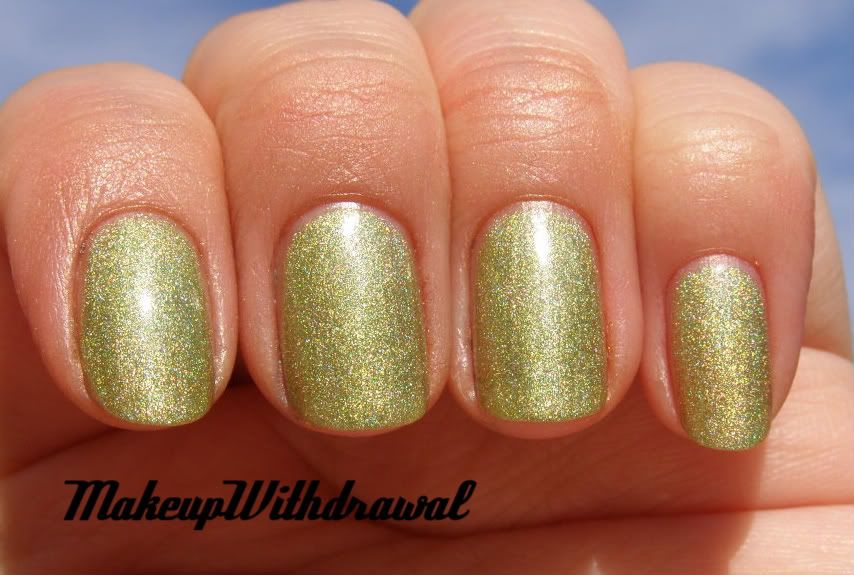 Laser Lime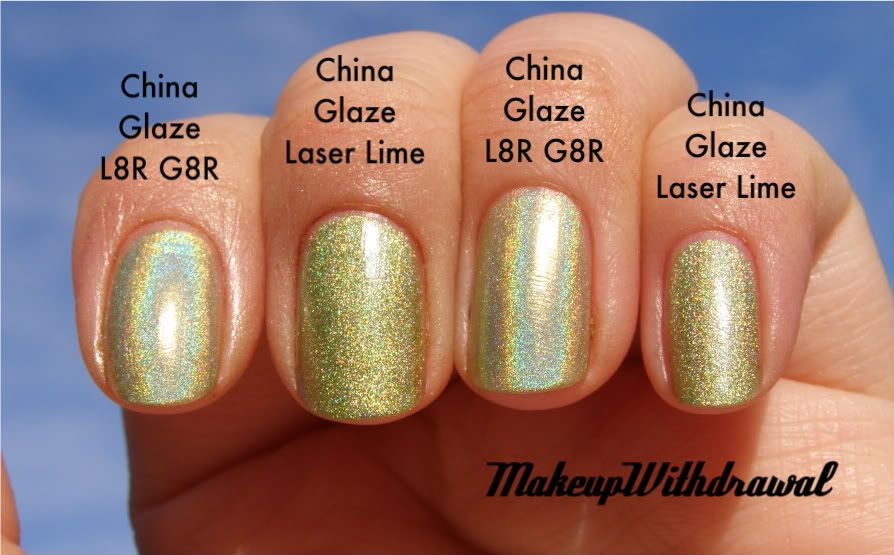 High Def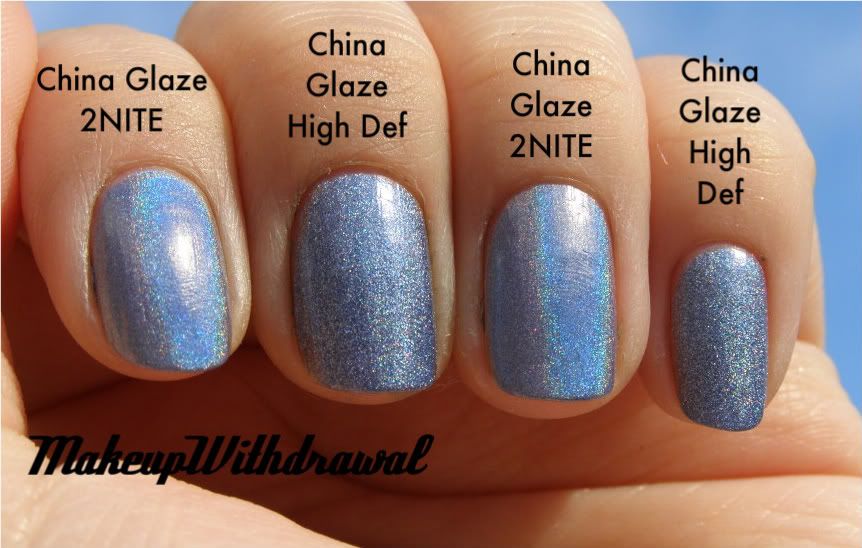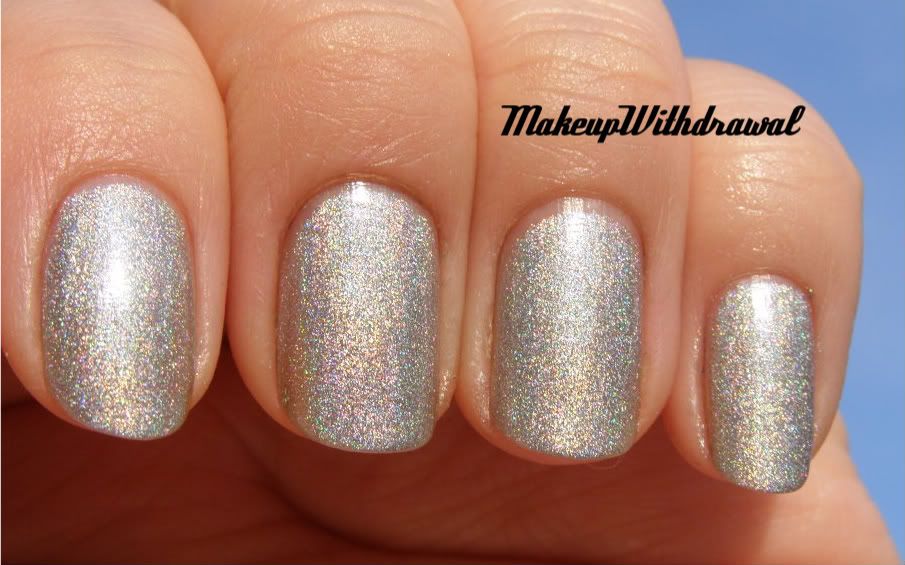 Hologram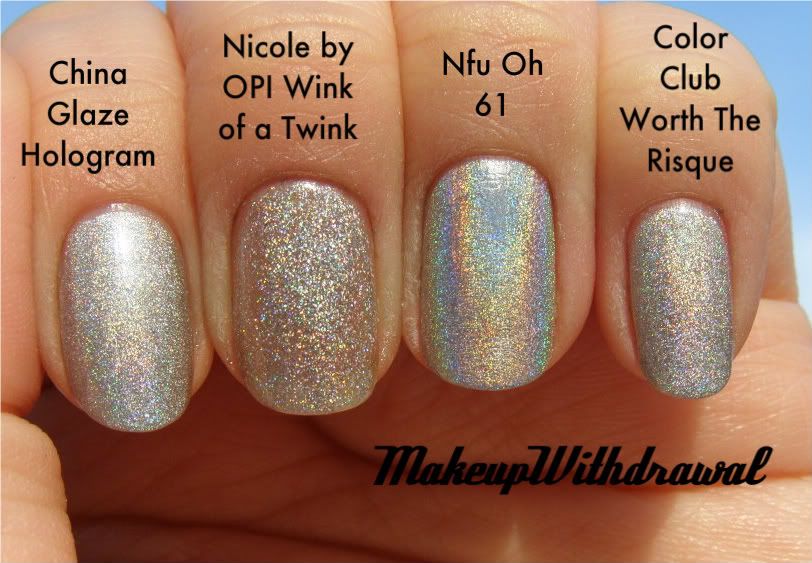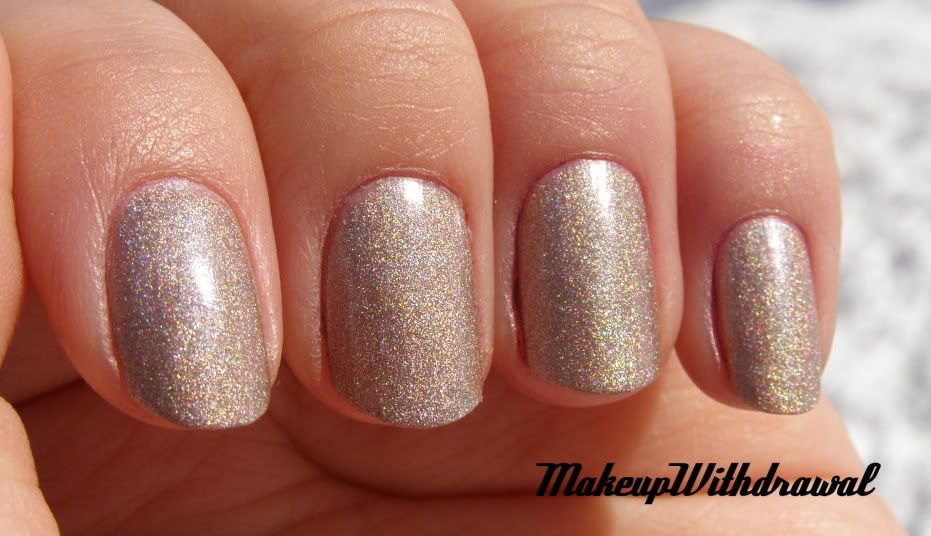 Cyberspace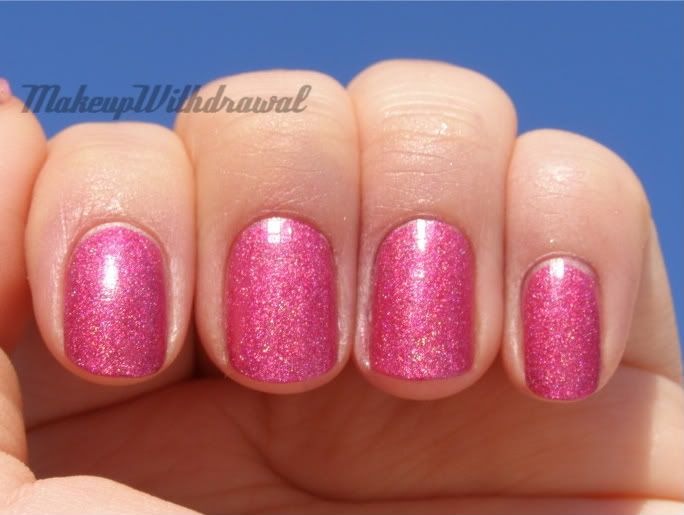 Hyper Haute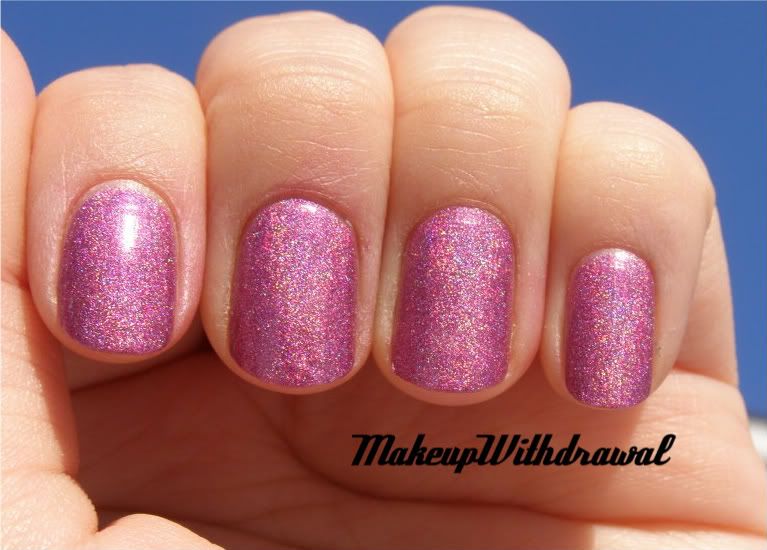 Electra Magenta


Gamer Glam


The verdict:
It's true that the Tronica collection isn't as holo-y as the linear OMG collection, but I still like them quite a bit. I do think it's a bit of a shame that colorwise, the two collections are ridiculously similar- when the promo pictures for Tronica came out, I thought they would be rich, dark holos. On me, Tronica shades wear a heck of a lot better than the OMG holos! I've worn the skittles all weekend and not a single one has chipped. One thing to note is that unlike some holo polishes where the rainbow effect is diffused by a glossy topcoat, in my experience a high shine top coat actually helped bring the holo out in the Tronica collection.
Many of the polishes in this set remind me of the Color Club holo formula, which I adore for stamping.
In fact, Hologram is a dead on dupe for Color Club Worth The Risque (it looks a little different in my pic, but they look exactly the same in person) while Virtual Violet and Color Club Wild At Heart are so similar, it's not worth having both (personally I like Wild At Heart more, it's richer).

Anyways, I'm off to nuture my poor abused cuticles!
Love,