NOTD: Candyland Series- Mr. Mint
Wednesday, January 26, 2011
Hello!
I have a certain weakness for board games. My favorite when I was a kid was Candyland, that simple game of traveling down the path of brightly colored squares to reach the glorious end and be declared the winner. I've never confessed this to anyone but I totally used to cheat all the time when I was younger. I played the game so many time that all the cards became dog-eared at the corners and I knew which ones they were, and always shuffled them to favor myself. Sneaky, sneaky.
Today I started with a Mr. Mint manicure. Mr. Mint was so sweet and cute looking, chopping down candy canes in the forest.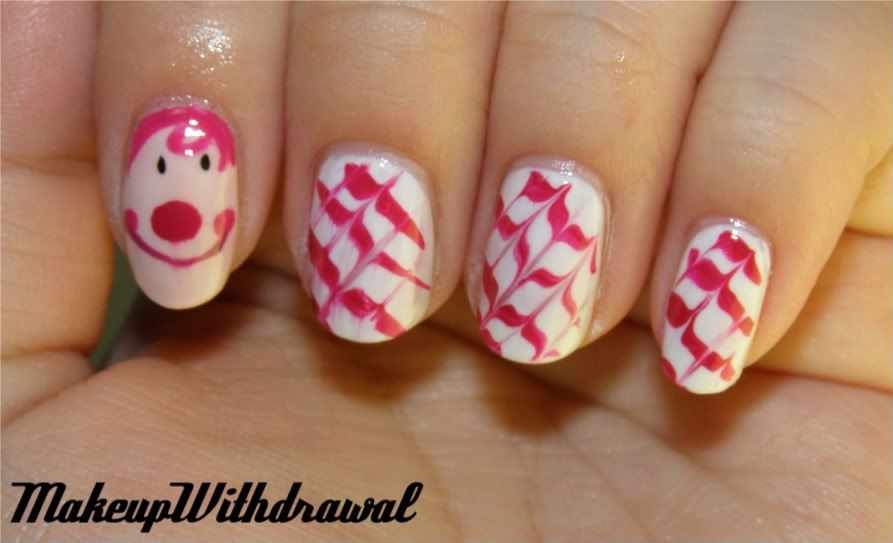 I made one major mistake though, I used CND Air Dry on the design when I thought it was dry but it wasn't. I forgot that Air Dry Top Coat has the nasty tendency to smear color, and it completely wrecked my design. Ah, lesson learned for next time.
I used: Ulta Deck the Halls, Sally Hansen Dazzling, Sally Hansen Polar Bare, Wet'n'Wild French Creme, Essie My Private Cabana, Art Deco Black Striper. That glossy oil you see is China Glaze Peppermint Cuticle Oil
I used a marbling technique to swirl the designs on my pointer, middle, ring and pinky finger. It didn't turn out quite as well as I thought it would, but I'm satisfied that I spent the effort nonetheless.
Have a great night!