Guerlain Emilio Pucci Météorites Perles D'azur Illuminating Powder
I need to get something out of my system. Ballz. Ballz ballz. Blue ballz. Balllllllz.
Ballz!
Ok, done. Now I can go about this post in a much more mature manner.
I finally did it. I went and ordered my first Guerlain product, the widely loved Météorites. For years now, (literally!) I've told myself that one day I would own these little pearls of face powder and see what the fuss was about. What better time than now, with the new summer collection collaborated by Emilio Pucci?
First, let's take a look at that packaging. Gorgeous Pucci "Winter Capri" print adorns the inside of the box and the lid of the sturdy tin housing the pearls. From what I understand, past Météorites were contained in little cardboard pots, but Guerlain revamped both the packaging and the actual product last year.
Inside, six shades of little Météorites that are lightly scented. I actually counted them and sorted them, for curiosity's sake.
Total: 63 balls.
7 Blue
10 Ivory
11 White Gold
11 Beige
8 Orange
16 Rose Pink
Before you think that there's an imbalance of colors, I'd like to point out that the blue and orange perles are quite a bit more pigmented than the others, so this ratio is actually ideal. Too much blue and you end up with a funny grey cast to your skin. I swirl a large fluffy brush over the pearls and lightly dust over my skin, creating a nice brightening and softening effect.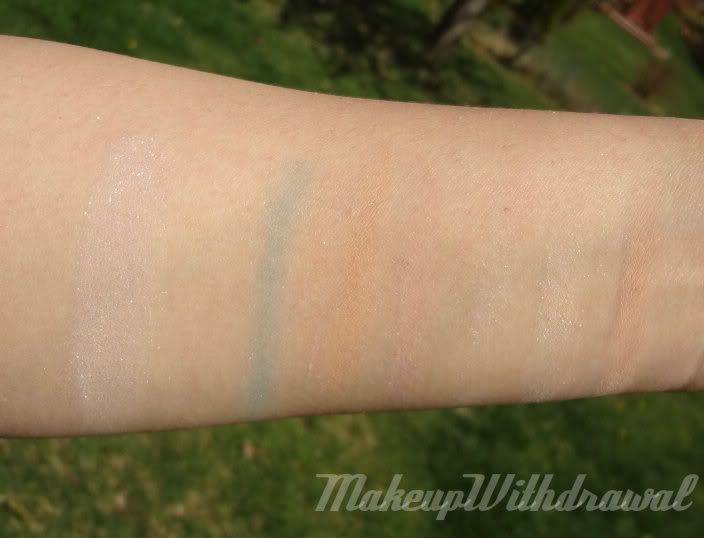 Left, all the colors swirled together and swatched heavily so that they would show up.
Right- each shade individually.
While this powder is sparkly, unless you're peering at my face from a distance of four or five inches away (please don't, take a step back!), the sparkle particles are not noticeable. Out in the bright sun however, there is a bit of wimpy-vampire sparkle.
What I liked about this powder compared to other powders that I've used, is that it doesn't make my dry cheeks look patchy yet surprisingly, controls my oily t-zone quite well. I'm fairly amazed, actually. While wearing these perles, I don't really blot my skin any more which is a considerable feat since I usually blot three times a day at least. At most, I have to blot once at around five in the evening or retouch my foundation around then.
Now, are these little balls of powder worth $59? I can't decide that for you. I bought these Pucci Météorites for myself because long ago I promised myself that I would own beauty products that not only added to one's appearance, but were beautiful to behold. In that aspect, Guerlain definitely delivered.
What do you think? Beautiful? Overrated?
Product featured was purchased by me, for my own use. For additional information, please refer to my Disclosure Policy.