LORAC Swatches Pt 2 (Finally!)
Let me start out by apologizing for the delay in these swatches. I had some issues with my Google account, and for some reason it wouldn't accept my password and I had to wait 24 hours to override it with the security question. While I was away, I got my other LORAC order (directly from the company). I opened it to happily find a gift with $25 purchase, the Burning Love eyeshadow trio (Ok, I wasn't surprised or anything, it was the reason I bit the bullet and finally ordered the cart of stuff). Pictured above- the single eye shadows are (L-R) Garnet, Persuasion, Olive, Reverie, Joy. The Cheek Stamp is Hibiscus and the trio is Burning Love.
But first, here's the rest of the LORAC order from Hautlook like I promised- Suede, Kiwi, Innocence, Harmony and the Snake Charmer palette: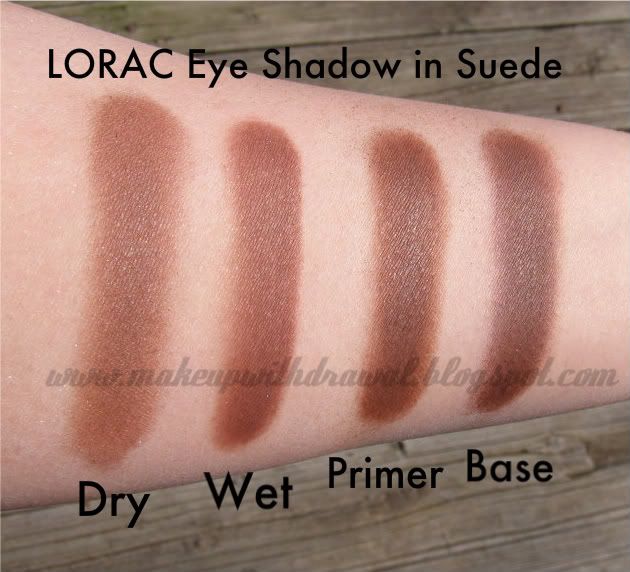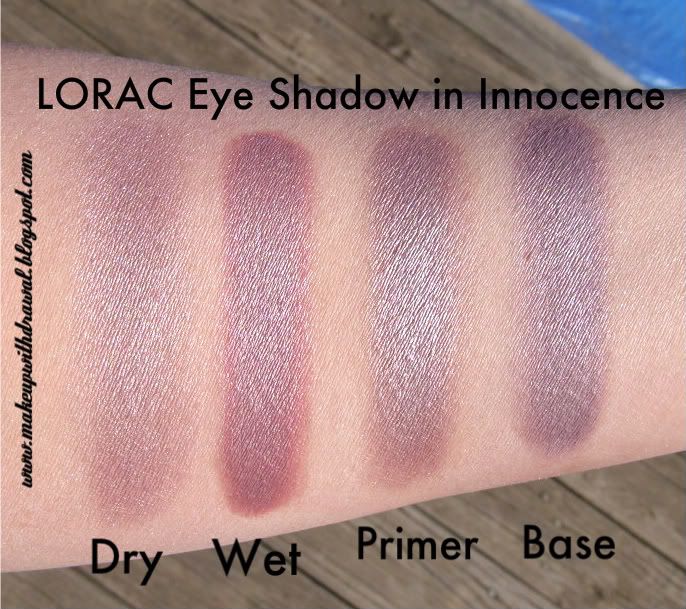 Note: Suede is a smooth, silky warm cocoa. Kiwi is hard to describe. I wouldn't call it a silver, but rather a very handsome shimmery grey with a hint of blue to it. It's stunning. Innocence is a dirty lavender, but it does stain red when wet. Seeing as how this is the only flaw that any of my LORAC products have, I'll let it slide. However, it does look very good paired up with a dark taupe. Harmony is a pinky-peach shimmer, sheer.
Base- NYX Jumbo Pencil in Milk
Primer- Urban Decay Primer Potion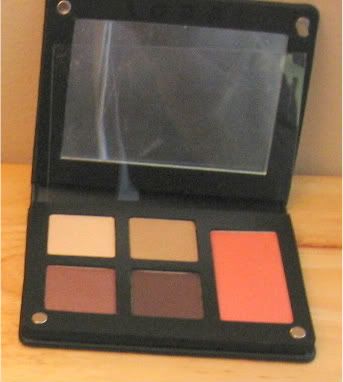 First I'd like to say that the bright sun really tones down the blush in that palette picture. It's brighter, much more peachy (almost a hint of coral) than that picture reflects. Also, the light shimmer shades have a hard time showing up in photos, the Enchanted Ivory is an off white pearl and the Mystical Gold is a champagne pearl. The texture of Royal Brown isn't quite up to snuff to other LORAC shadows, but I blame it on the tiny bit of glitter in the shadow, it adds a little bit of grittiness. It's an amazing palette though, superb to travel with. In fact, I brought it on my overnight stay at my future in-law's house. Each color really works well with the others, and they are all so usable. Once again, LORAC provides nothing but the best pigmentation.
Now, here's the others, that arrived on Monday-Garnet, Persuasion (not shown), Olive, Reverie, Joy.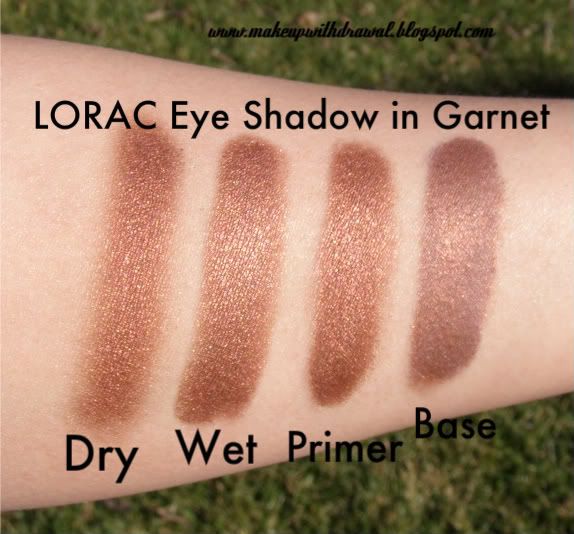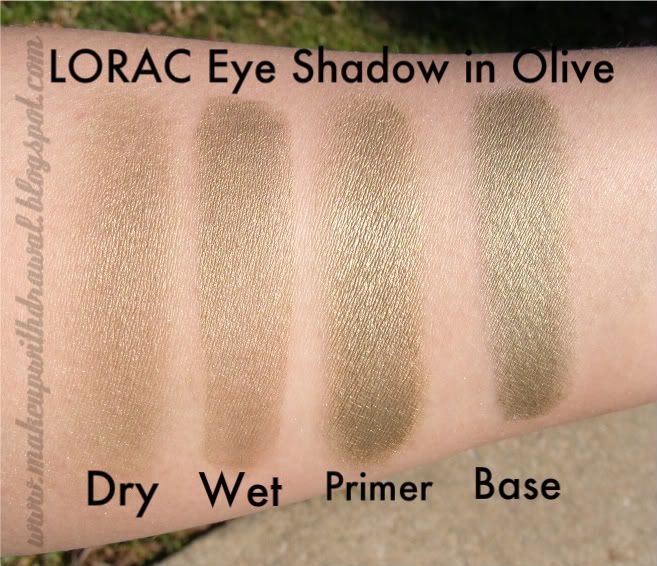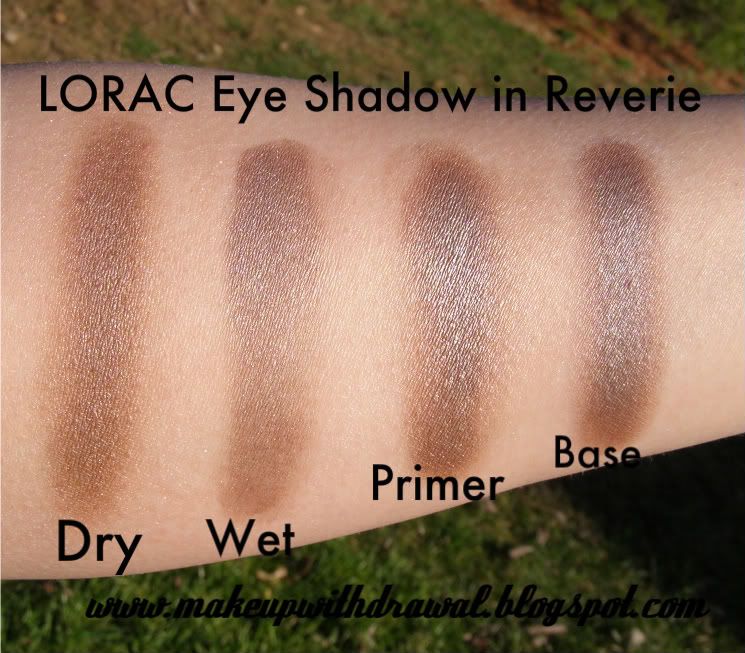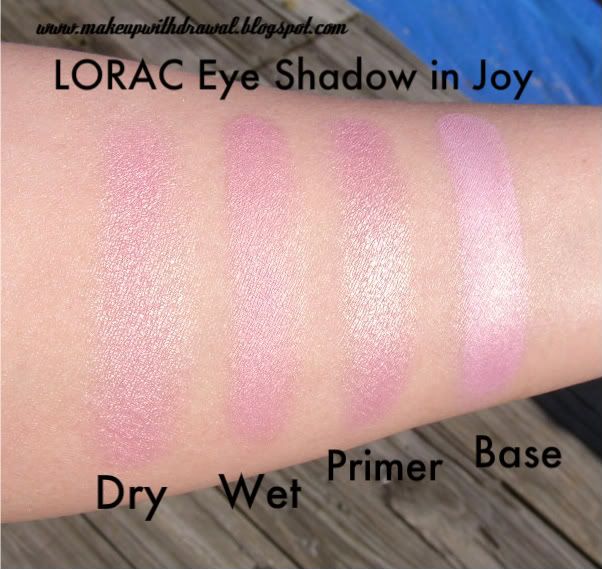 Notes: There's a reason why I omitted swatches of Persuasion. I've tried, on three separate occasions to take good pictures of this shade. It doesn't swatch all that well, and the photos keep turning out suck-tastic. I can describe it just fine- a very light nude shimmer- almost champagne, but not quite. It's a great quality shadow though, very subtle- great for highlighting the arch in a not over the top way. Just doesn't camera shy, I guess.
Garnet is a gorgeous red copper. It's highly pigmented and just very sultry, I can't want to use it in a smokey eye. Olive is not as green as the name might suggest, but a soft, sheer shimmery gold-green, with a hint of grey. It makes a great wash of color, like a supporting actor instead of the lead. Reverie is a taupe with slight grey pearl. I think it might be my new favorite taupe, a hard task indeed. Joy is as girlie as it gets, really. It's a fantastic bright pink with hints of gold (over primer, it's very golden).
It's a perfect day out, so if you don't mind- I'll save the Burning Love Trio and Hibiscus Cheek Stamp for later- I'm going to go enjoy the weather with my dog.
<3, 'till next time then!
All products were purchased by me for my own use.