The Glory of Walmart (It hurts me just to say that outloud)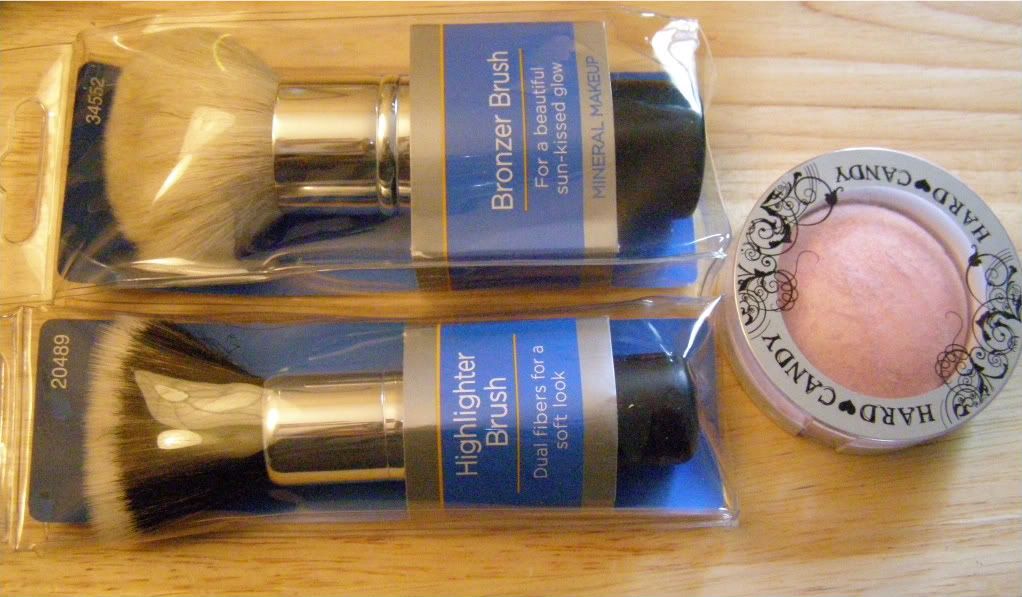 I never thought I'd be planning trips of Walmart, but I yesterday I found myself with a sweet tooth (so to speak), yearning for some Hard Candy. I bought another blush to add to my collection, having already Pin Up and Living Doll. I also spotted the HD brushes that have been spotted at Walmarts around the country.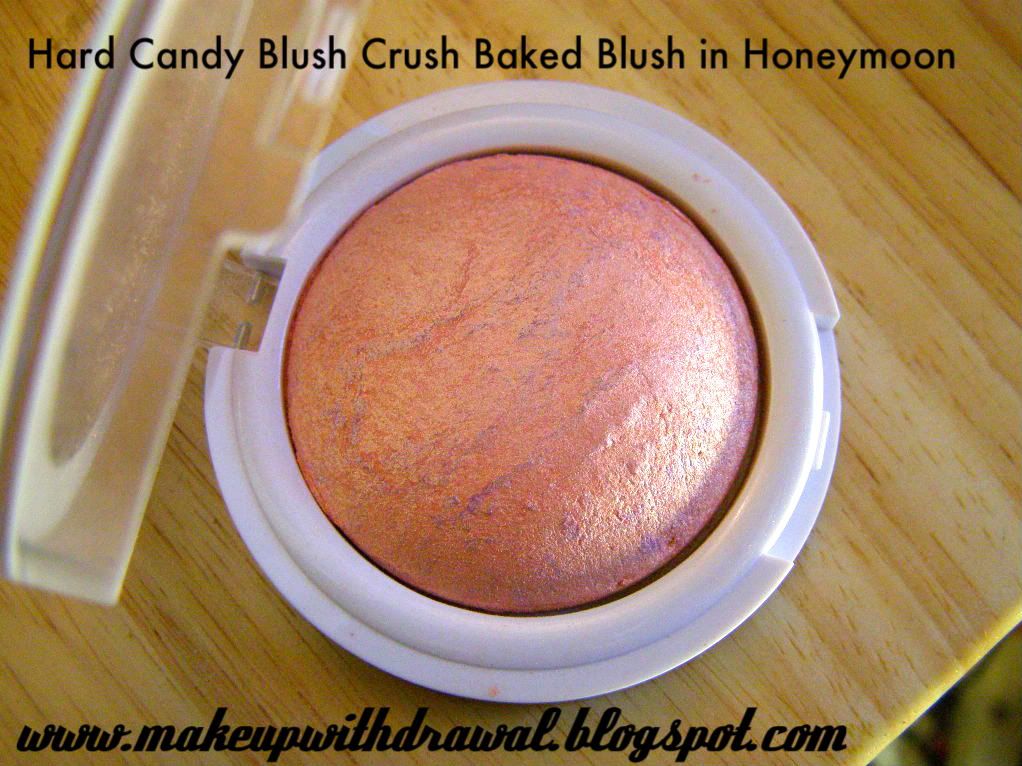 First, the blush. I've experienced good things with Hard Candy's blushes, and I thought Pin Up and Living Doll were getting lonely in my blush drawer, so I wanted to buy them a friend. I grabbed the last Honeymoon and was a bit apprehensive about it, because it looks light neon orange with lavender veins. But then, I remembered how I'd been proven wrong about Pin Up (which looks dark orange with black veins, but shows up as a lovely peachy shimmer flush) and decided to give it a go. Now, I've been reading reviews about it on MUA, and here's what irks me: people confusing the terms opaque/sheer and pigmented/nonpigmented. It seems to me that pigmentation refers to how dense the coloring of the product is (more of a term I'd use to describe the quality), and opaque/sheer describes how see-through it is. That being said, a product can be both pigmented and sheer. This would be the case with Honeymoon, it's light and shimmery, but you'll only need a little bit of it. Also, I wouldn't really call this a blush because it's so light in color (and once blended, almost exactly my skin tone) that it actually ends up being a glowy highlighter. I'm surprised that it doesn't make me look orange at all (I honestly thought I'd end up looking like a sparkly Oompa Loompa ). Hooray, another member of my Hard Candy family.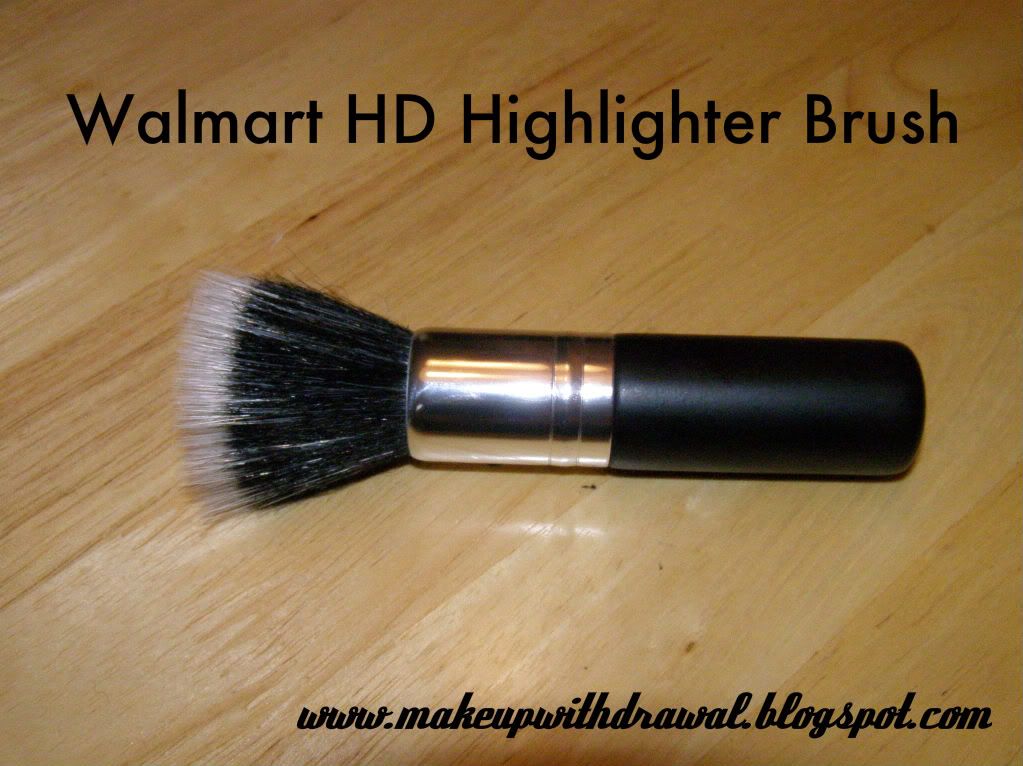 Now, the brushes. First up, we have this nice skunk for which I paid about $6 after taxes. I bought it because Target discontinued my favorite duo fibre brush (Studio Tools skunk, which is a dupe of the MAC 187, so in essence I bought a dupe of a dupe of a brush, whose price I couldn't justify). I'm feeling rather ambivalent about it. I don't think it's as nice as the ST one, the black fibers are not as stiff or hardy so the brush head is overall more malleable. It shed a couple hairs when I washed it, and under warm water some of the bristles went haywire and curled. However, it's as dense as the ST skunk, but slightly bigger so I don't mind having it in my arsenal of brushes, especially for the price I paid for it. I do wish that the handle was longer, because it's too short for my brush holder and dwarfed by my other brushes. Great for travel though, fits nicely into my makeup bag. Edit: After using this brush a few more times, it appears that it sheds quite a bit. I wouldn't recommend it.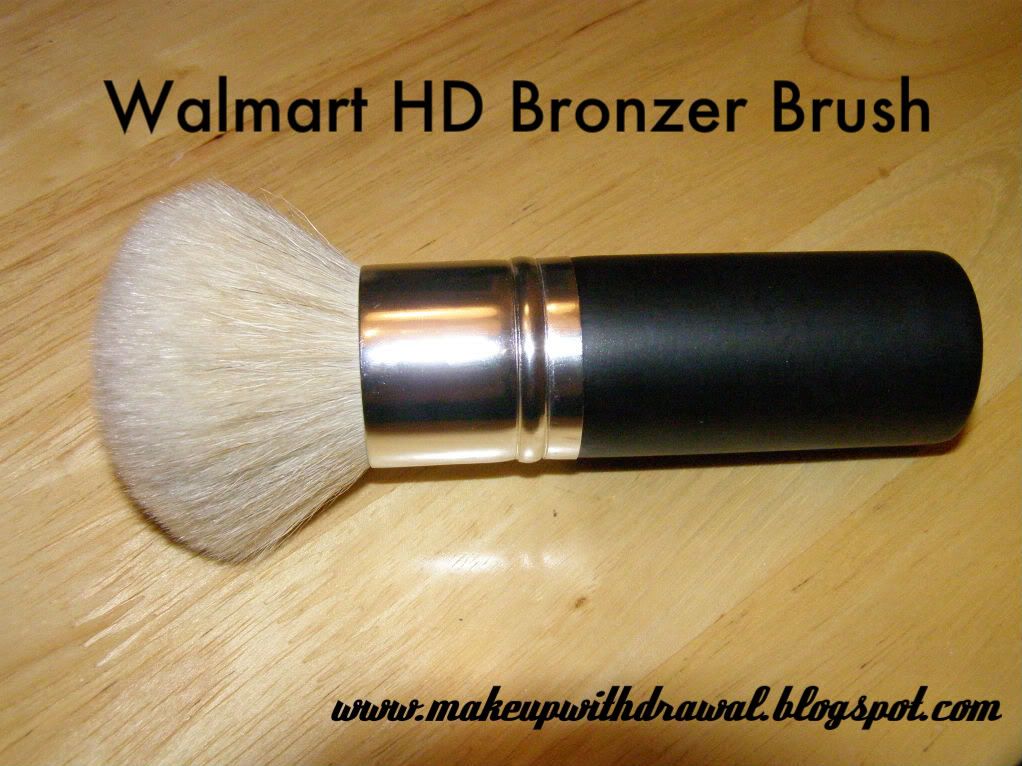 This brush, excuse my language- is badass. It really is. I paid about $7, and it's most definitely worth every penny. It's so soft, and has the densest bristles I've ever had the pleasure to have held in my hands. It's great for powder foundation, setting powder, bronzer, mineral makeup (though with mineral makeup I feel like there's some waste) pretty much anything where you want to cover a lot of area with a soft, light hand. Hmm, you know what this reminds me of? Pictured on the left, is the Professionnel Platinum Bronzer Brush #48, which costs $35 at Sephora. Gee, $7 or $35? Thanks, Walmart. One thing to note, when washing this brush, you
HAVE
to dry it upside down. Why? If you don't, water will collect right under the bristles, in the metal cap where it's glued to the handle and after sitting there for a while, it'll smell awful. Learn from my mistake- I had stinky water leaking all of my hands when I tried to use it a couple hours after washing. Now, I tie a string around the handle and hang it from a clothes hanger.
Not bad for $18 total, right? I can't wait to go back there to try some other brushes.