Rock & Republic Lawsuit Eyeshadow (and FOTD)
Wednesday, September 8, 2010
If you look at the reflection, you can see the brown base.
I love this Rock & Republic shadow so much, I figure that it deserves its own post.
This one is really exceptional, a dark forest green/bark brown duochrome. I love, love, love duochrome shadows- the shift in color is fascinating to me! What sets this one apart from other brown/green duochromes, like MAC Club, Urban Decay Lounge or Too Faced Label Whore is the quality. No fallout because the shadow is so well formulated, it really is a joy to blend and apply.
I used to own Club (but it died, sad story, I'll have to tell you it sometime), and I can tell you that the shadow itself is harder, and not as creamy as Lawsuit.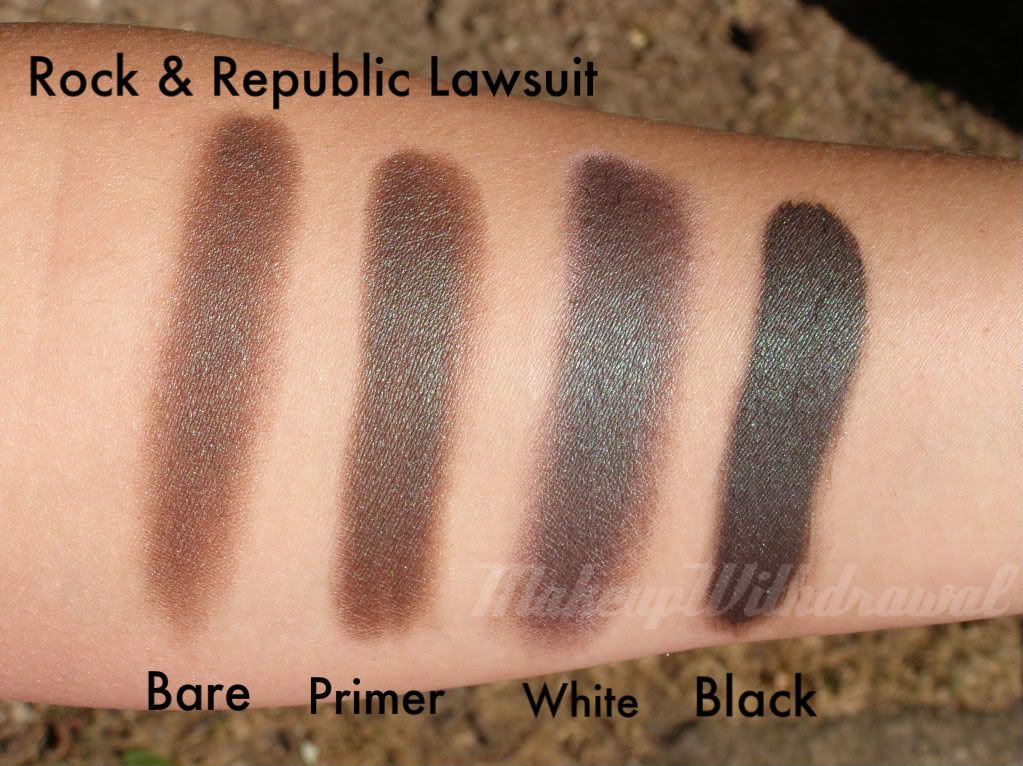 I love that Lawsuit's green is really rich and vibrant, especially over a black base, as you can see. The brown is also much cooler than Label Whore (which can get kinda of reddish, and has a bit of glitter as well). And isn't it cool how it looks purplish over a white base?
Rock & Republic shadows are usually $28, but I got mine for 50% off during a sale! It's worth its weight in gold, it's definitely one of my top 5 shadows.
And here's a FOTD with it!
I like how my face is partly shadowed. Photo-taking fail.
Face: MUFE HD, NARS concealer in Ginger/Custard, R&R Foreplay blush, L'oreal Magic Perfecting base
Eyes: UDPP, e.l.f. Black creme liner as base, R&R Lawsuit, NARS Bali, NARS Bellissima duo (left side), Prestige Total Intensity Deepest black, false lashes.
Products mentioned were purchased by me, for my own use.