Green EOTD (Happy Pi Day!)
Wednesday, March 14, 2012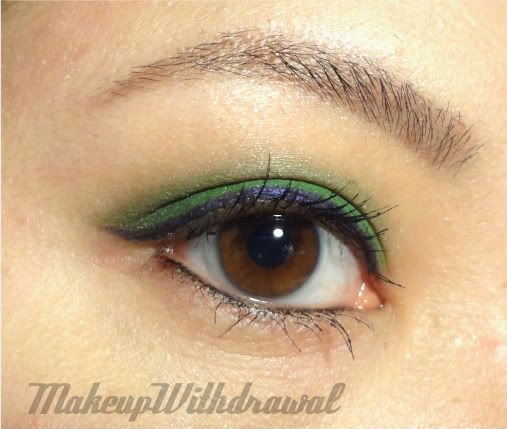 It's not St. Patrick's Day yet, but I don't need a holiday as an excuse to wear green eye shadow.
Also, Happy Pi Day! Man, I'm a dork.
These are the first EOTD pics taken with this new camera that I ahem, borrowed from my boyfriend. It's the Sony Cyber-Shot DSC-WX9 I got him for Christmas. I'm not happy with it. I've spent a lot of time messing with the settings and I don't find it user friendly at all. I bet it'd be great for the average person who gets it out and uses the auto mode to shoot things outdoors (like Morgan taking pictures of marmots while on a hike), but it is dreadful at taking macro shots (doesn't even have a manual macro mode, the so called 'intelligent" auto that decides whether you're lucky enough to shoot macro or not).
I'll have to play with it some more, but it looks like this camera is safe from me as I definitely will make no attempt to keep it (yes, I'm a horrible enough girlfriend that I got him something that I wanted to play around with as a gift).
I used:
Brows: NARS Bali, La Femme Eyebrow Sealer
Eyes: LORAC Behind The Scenes Eye Primer, Shiro Cosmetics Link, Physician's Formula Gel liner (the purple shade from the green eyes trio), LORAC Jade, Kiss Me Heroine Make Volume + Curl mascara, Prestige Total Intensity liner.