Le Métier de Beauté Magic Luster Cream (and Why You Need This)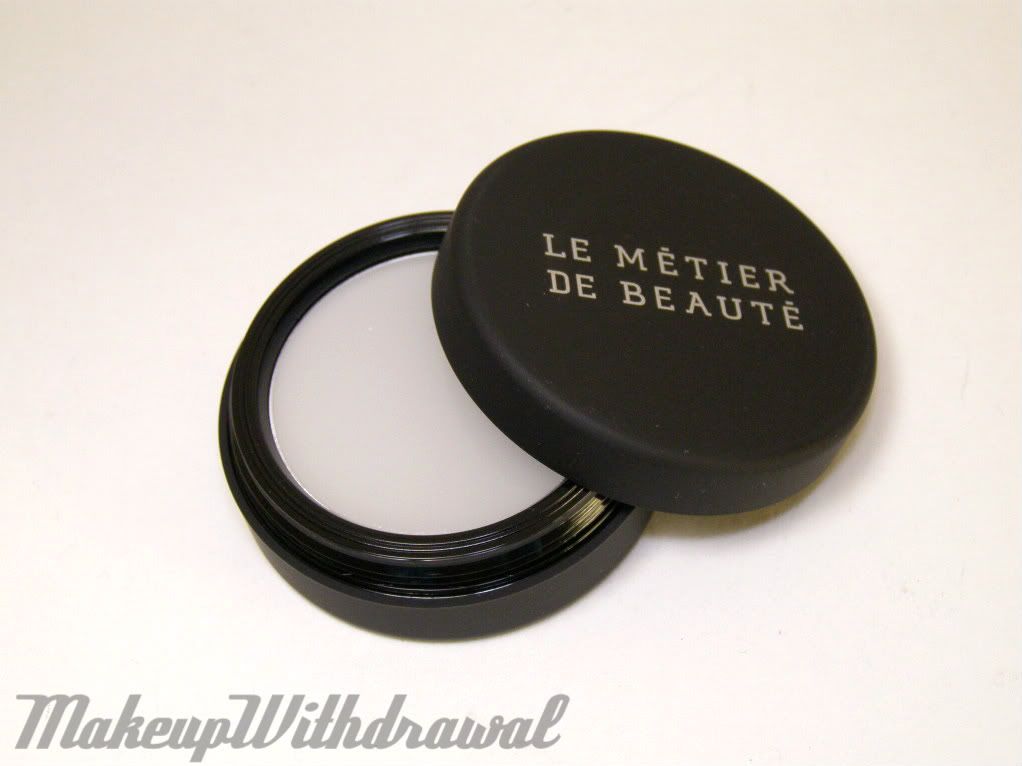 Magic Luster Cream is my first product from Le Métier de Beauté and I must say, what a great introduction to the brand!
This cream is a multipurpose product that can be used alone to add a bit of luster, or combined with powder products to make infinite combinations of eye tints, cream blushes and even lip color.
I heard about it about a while ago and while I was ordering on Nordstrom.com I figured I'd add it to my cart.... because I *need* another product to help me use up the things that I already have... right? Only a beauty junkie could understand that reasoning.
LMdB Magic Luster Cream comes in a matte black screw top jar (oh how I love matte black packaging!). The texture is a sort of thick, tacky gel rather than a true cream.
I quickly found a myriad of uses for this product. You can mix it with dry eye shadow (loose or pan form) to create various custom cream shadows (perfect for creating sleek runway eye looks). You can mix it with your powder blush to instantly make lip colors. I also mixed it with some shimmery pigments to make beautiful, glowing cream highlighter.
One interesting thin that noticed about Luster Cream which makes it different than just mixing Vaseline with your makeup is that it still preserves the finish of the product. To better understand what I mean, take a look at the following picture.
As a blush, Rock & Republic All Nighter is on the matte side, with a bit of shimmer. See how it doesn't turn into a slick color like the rest, which had shimmery finishes? Fascinating. Plain petroleum jelly can't compete.
I also found that this cream worked fantastic as a way to enhance the longevity of blushes. I simply tap a little onto my cheeks (with my bare fingers, the heat helps melt it into my skin) and apply blush over it. Shades that previously lasted six or so hours now wear well into the night.
You could even wear it by itself. Even though my t-zone is oily, my cheeks are quite dry and I found that a touch of Magic Luster helped liven up my skin (does this appeal to anyone else with dull complexions? I
t should) and was very pleased that it didn't break out my skin. I'm guessing that this works because the only two ingredients are Hydronated Polyisobutene and Tocopheryl acetate (Vitamin E acetate) which are very common ingredients in cosmetics and skincare.
Keep in mind that with this product,
less is more
. You only need a tiny bit due to the slightly sticky texture. In fact, I'd recommend using as little as you can when wearing it on your eyes to prevent creasing. So though $24 does seem like a lot to shell out for a small jar of it, I've used it quite a bit without really putting a dent in my pot.
Another side note- keep in mind when mixing it with eye shadows that often times eye shadows include ingredients that
are not lip safe
(this is true especially for indie brands).
So have I convinced you yet? Surely you own a few eye shadows or blushes that you've thought on more than one occasion would make a gorgeous cheek shade or lip color!
Le Métier de Beauté Magic Luster Cream is $24 and is available at Bergdorf Goodman, Neiman Marcus and Nordstrom (may vary by location, your best bet is online).
What do you think? Do you have any multipurpose products such as Le Métier de Beauté Magic Luster Cream?
Products featured were purchased by me, for my own use. For additional information, please refer to my Disclosure Policy.