Fifty Words or Less Reviews- Vol. 1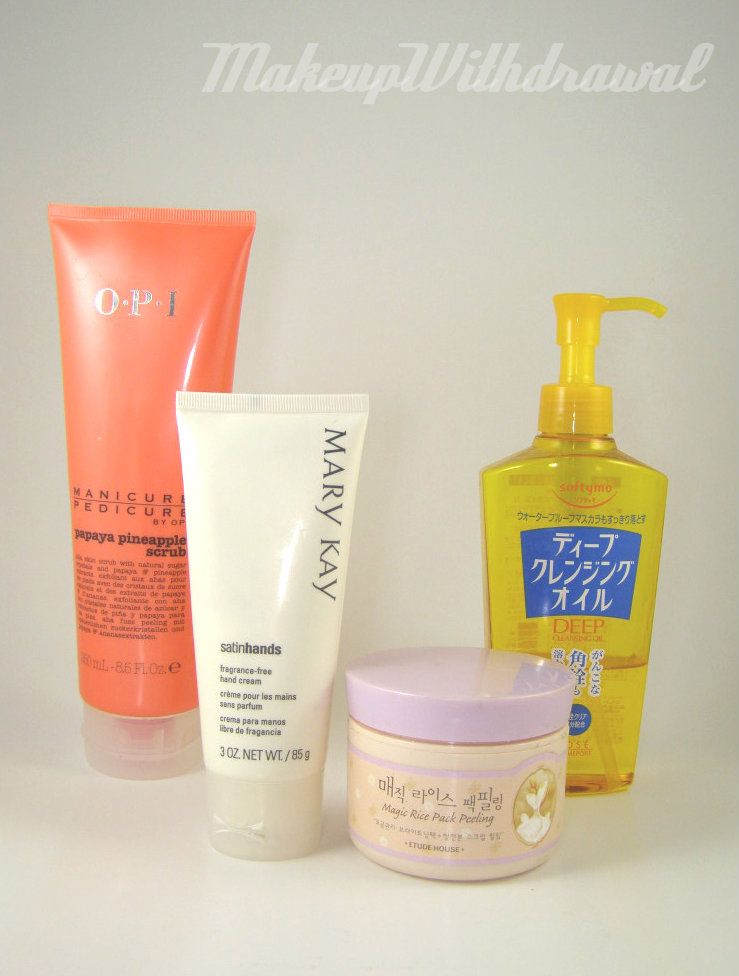 I think this is a common thing for beauty bloggers- we'll try out a product and we're just plain lukewarm about it. I mean, it can be a decent, nice product... just nothing to wax poetic over. Or even if something is fantastic, it's pretty much straight forward and there's not that much to say about it. So I present to you Fifty Words or Less- a series of reviews in which I group together a few products and get it out of a way. Because I just don't love or hate these products enough to warrant each their own post.
OPI Manicure Pedicure Scrub in Papaya Pineapple.
Gentle, decent sugar scrub. Sugar crystals dissolve easily so it's not as harsh as other scrubs out there. Strongly scented though- too strong for me. Scent lasts through several hand washings and really lingers. A tube will last you forever.
Mary Kay Satin Hands Hand Cream
Heard great things, doesn't live up to the hype. Claims to last through several hand washings- no freakin' way! Non-scented is a plus, but might actually leave my hands drier than they were to begin with. Aveeno Body Moisturizing Lotion is better than this stuff.
Etude House Magic Rice Pack Peeling
Bought it because I mistakenly thought it was a gommage cleanser. It's not. Regular granular type. Smells awful- like household cleaning solutions and medicinal at the same time. Tingled after using it on my face (dislike) so I'll use it up on my hands.


Kose Softymo Deep Cleansing Oil.
Super cheap, bought it on Sasa ($13) because the Speedy Oil was out of stock. Not as good as the Speedy, thicker and doesn't rinse clean- needs a follow up cleanser. Doesn't break me out though. Smells like citrus oils, works decently.
Can you think of anything that you bought recently that you're not terribly excited about?
Products featured were purchased by me, for my own use. For additional information, please refer to my Disclosure Policy.