That Looks Awfully Familiar (Sinful Colors UFO over Color Club With Abandon)
I can't be the only one who has accidentally bought the same color twice. When I was at that sketchy little nail supply store, I picked up a bottle of Color Club With Abandon. When I got home, I realized that it looked exactly the same as a bottle of Funky Fingers Voodoo. Derp! I guess I'll have to give this new bottle of With Abandon away or something.
I keep forgetting that Forsythe- the company that makes both Funky Fingers and Color Club, often just renames the same colors and puts them in different bottles.
It's still pretty though- a sheer dark, almost blackish brown base with micro flakes of copper and magenta. Due to how watery it is, it takes at least three coats to become opaque. Or one coat over black, if you prefer.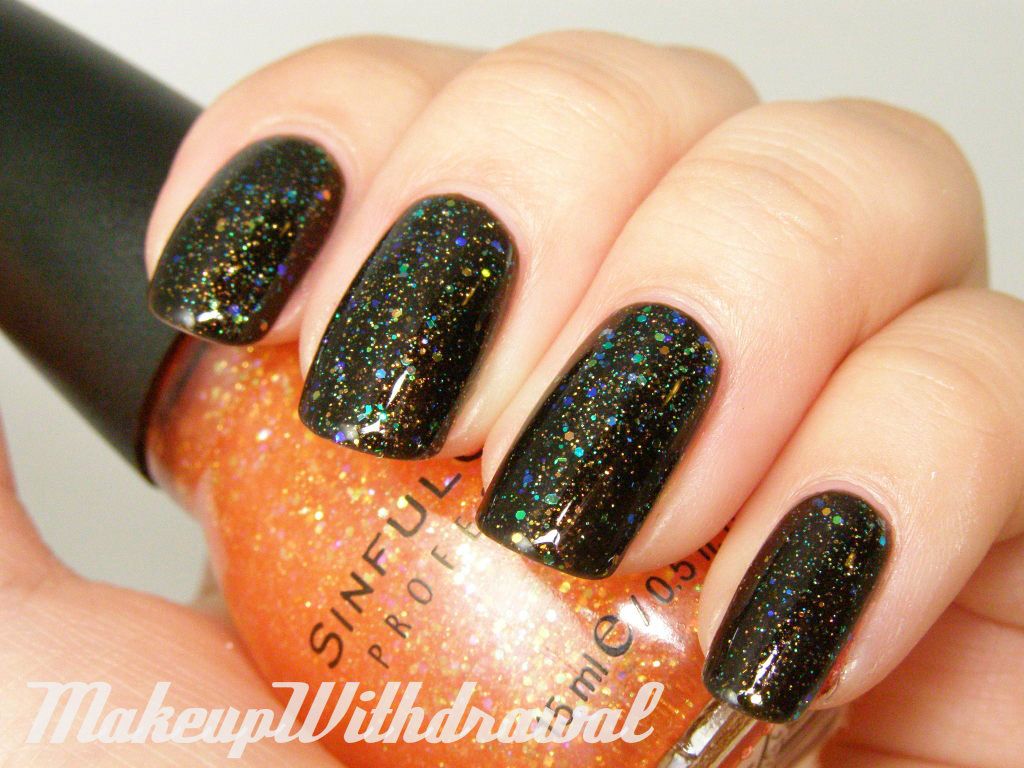 I decided to layer one of my recent acquisitions- Sinful Colors UFO. I was so happy to have found this at that Rite Aid in Sacramento because I do believe that it has been discontinued for some time. UFO is a super sheer orange with micro and round glitters- a mixture of orange and opalescent glitter that flashes green and blue. It's really quite pretty, but sort of "busy" looking- there's a lot going on at the same time.
Have you ever repurchased something you already owned by accident?
Products featured were purchased by me, for my own use. For additional information, please refer to my Disclosure Policy.