Too Faced Pink Leopard Bronzer (A Dupe?)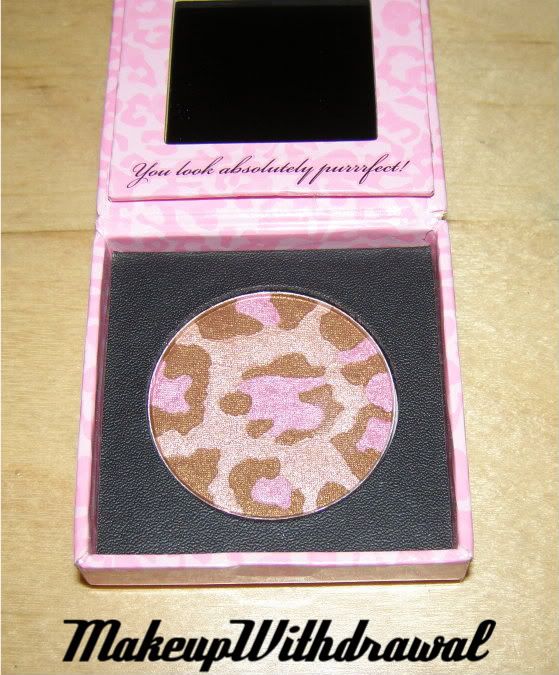 Pink Leopard, packaged in cardboard with mirror.
My friend Mae sent me an amazing care package, and easily the cutest thing inside was a mini Too Faced Leopard Bronzer. Words can not describe how disgustingly cute this bronzer is, hence the picture. I also like to imagine that somewhere out there, there are hot pink leopards lurking around, waiting to pounce on unsuspecting victims.
Now, Mae had told me that she used hers more as a blush, because it does have a bit of pink to it. I see why, it's a shimmery pinky peachy champagne that isn't a true bronze color. Lovely. Soft, finely milled- it looks great on the apples of my cheeks to give a fantastic glow.
Wait a second, something seems familiar. I realized the reason I liked this bronzer so much was that it left my face with a similar ethereal luminous effect as my beloved Hard Candy blush in Pin Up. How do they actually compare, side by side?
Click on image to enlarge
Pin up is pretty close, right? But darker. So is Catwalk Pink, only pinker. Either one would make a decent substitute, but if you're REALLY hardcore you could buy both and swirl them together for a nearly identical dupe. Bonus points for being so dedicated. Wet'n'Wild MegaGlo Catwalk Pink: $4. Hard Candy Pin Up Blush: $7.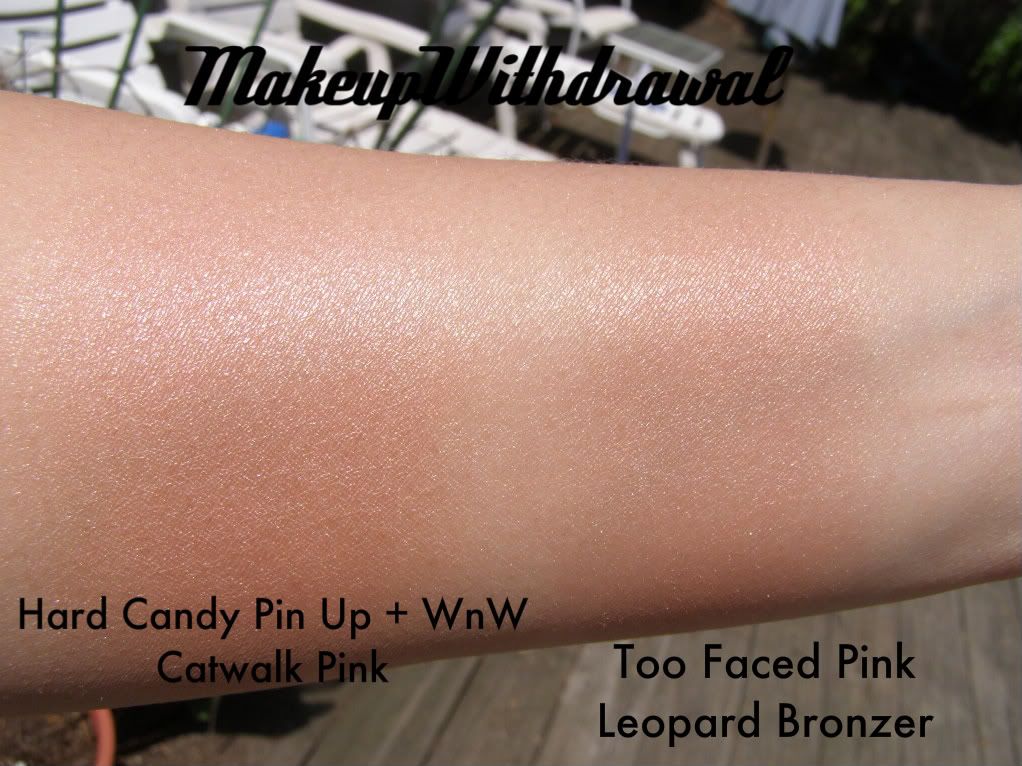 Even if you bought both those products, that's still less than the real deal. However, the full sized Pink Leopard comes with a equally adorable brush in the compartment under it. At $28 though, I think I'll happily use up the mini (and gush every time I whip it open, I'm such a sucker for specially designed cakes) but opt for something more unique.
Quick tidbit: a bird pooped on me while swatching these. Seriously, is there anything I won't do for a good picture?
Once again, special thanks to Mae for gifting me with this ridiculously lovable blush!
Thoughts: Have it? Want it?