Haus of Gloi Order- Observations from an Olfactory Simpleton
Wednesday, November 9, 2011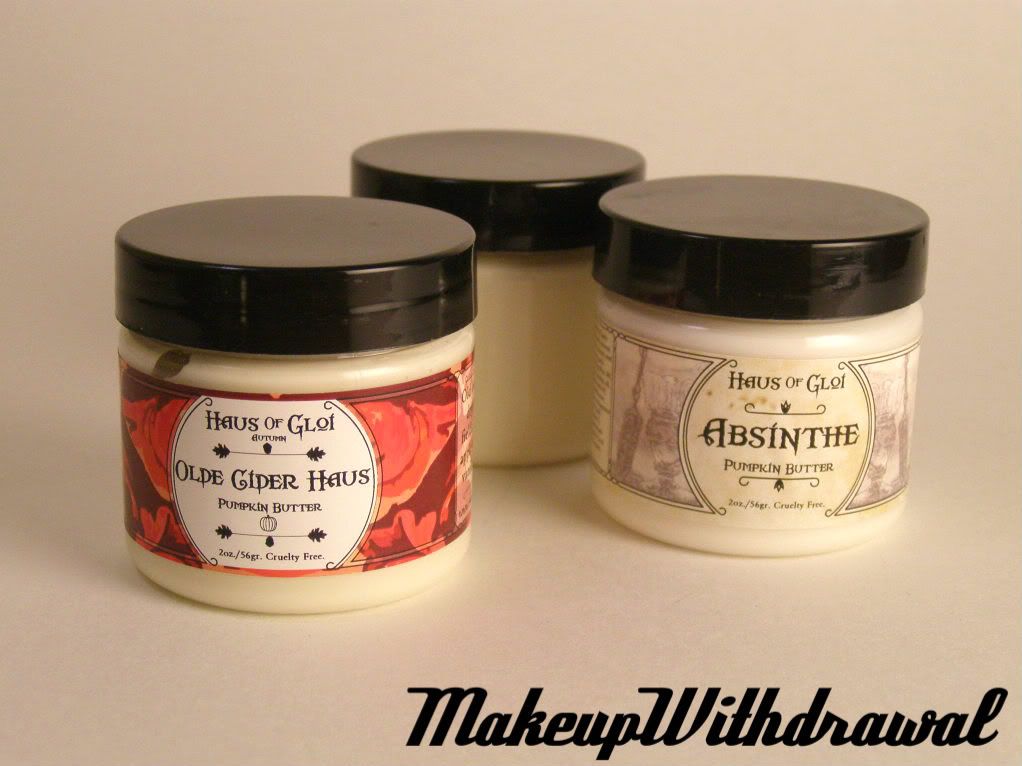 Good evening! I've come across a lot of blogs that said a bunch of really nice things about
Haus of Gloi
, so I made a small order a few weeks ago. It was very, very small. Just three mini pumpkin butters (I've been pampering my skin like crazy lately, all sorts of scrubs and butters. I smell delicious.) in the scents Saft Ernte, Absinthe and Olde Cider Haus. I also received a sample of Absinthe perfume oil with my order, which was awesome because that was the scent that I was most curious about.
First of all, let's examine the packaging. While someone had obviously taken a great amount of time and thought and my package was meticulously packaged and included a handwritten thank you note, it was missing the invoice and one of the pumpkin butters was missing its label as well. This irked me somewhat, as I had forgotten what the last butter I had ordered was and had to rummage through my emails to find the original order confirmation. The labels themselves, on the butters and the oil sample are delightful works of art, each one complimenting the theme of the scent very well. Each butter jar was also sealed, which I appreciated.


Now the break down of each scent- (may I remind you that my novice nose is not particularly well trained and so I must offer my apologies for my rudimentary observations)
Saft Ernte- Immediately I smell the peach and the nutty spices. Segues into stewed pumpkin.
Absinthe- A contradiction of herbs, mint and potent lemon open the scene. Hours later, sugar and the licorice scent of anise dominate, just like cold water dissolving a sugar cube and swirling into a glass of la fée verte.
Olde Cider Haus- Strong vanilla. A second cautionary sniff reveals sweet apples and sun warmed grass.
The texture on the body butters was amazing. Perfectly silky, fast absorbing and non-greasy. Also I appreciated that unlike other popular body butters (cough, cough, The Body Shop, I'm looking at you), there was no alcohol in the ingredients so that I could safely apply the butters after a shower without my legs burning because I just shaved (side note: why, why would there be alcohol in a skin product? Could someone explain that one to me? IT BURNS.).
I also found that the pricing and the shipping costs were very reasonable. Aside from the missing invoice and label, I see no reason why I wouldn't recommend Haus of Gloi to everyone out there. It's evident that they make exceptionally well crafted vegan products, and I can't wait to try some of their other offerings (scrubs! More perfume oils!).
Have a fantastic night!
Products featured were purchased by me for my own use. For additional information, please refer to my Disclosure Policy.