NOTD: Wet'n'Wild Prancer Over Black
Tuesday, February 1, 2011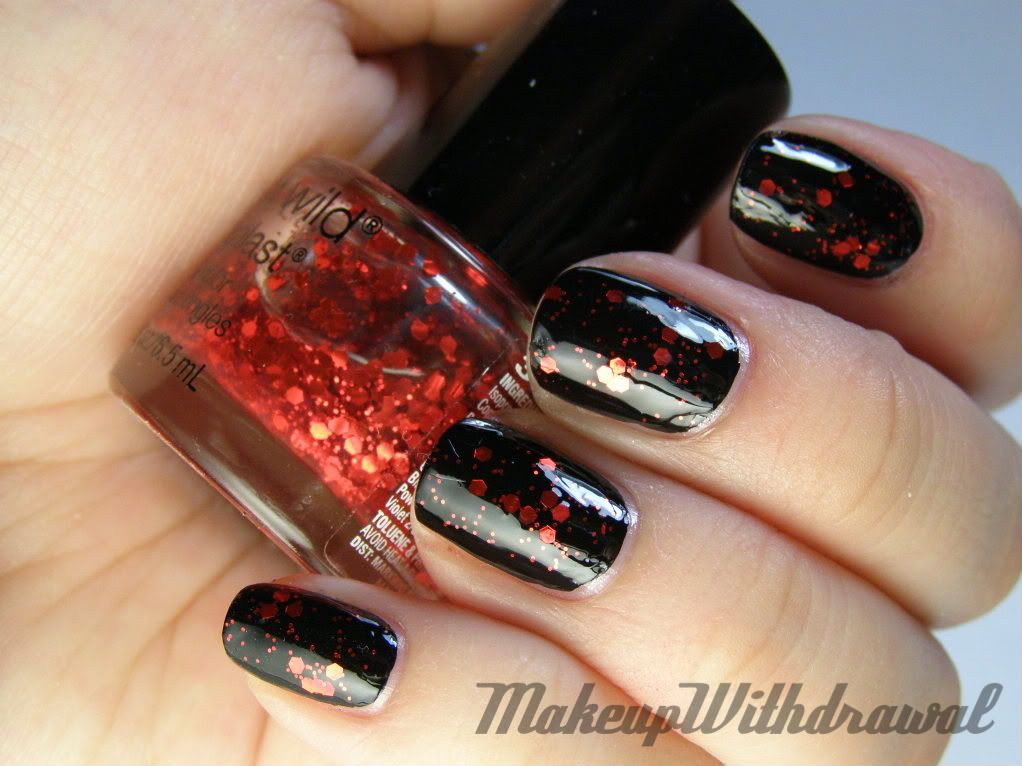 1x Essie First Base, 1x Wet'n'Wild Black Creme, 2x Prancer, 1x Gelous
Hello, Readers!
This is a polish that I purchased maybe a month ago, but I'm finally getting around to showing you it now. It's Wet'n'Wild's Prancer, a mini MegaLast polish that came out as a part of the holiday collection. I thought it would do nicely for a poor man's Deborah Lippmann Red Ruby Slippers... and I was halfway right. The two types of glitter are the same size and the right shape but just using Prancer on top of black doesn't duplicate the lovely suspended look that RRS has (click
here
to check out wonderful pics on
Lacquerized
).
Still, it's a gorgeous combination of polishes that won me a lot of compliments today, I think I might wear it for Valentine's Day. It was really annoying to remove though, all those glitter pieces snagged the fibers of the felt I was using and it look about 15 minutes.
Anyways, I wanted to know what you guys thought about V-Day manis! Do you know what you're going to do? Or, do you not give a crap, and will probably slap on any old color if you can even be bothered to paint your nails? I know that over at
Libby's Pink Vanity
, there's a whole 14 day MARATHON of V-Day polish. Isn't that some dedication? I'm hoping that 14 days of V-Day polish will inspire me to pick something once and for all!
Products mentioned were purchased by me, for my own use.