Obsessive Compulsive Cosmetics Liptar in "Harlot"
Sunday, December 18, 2011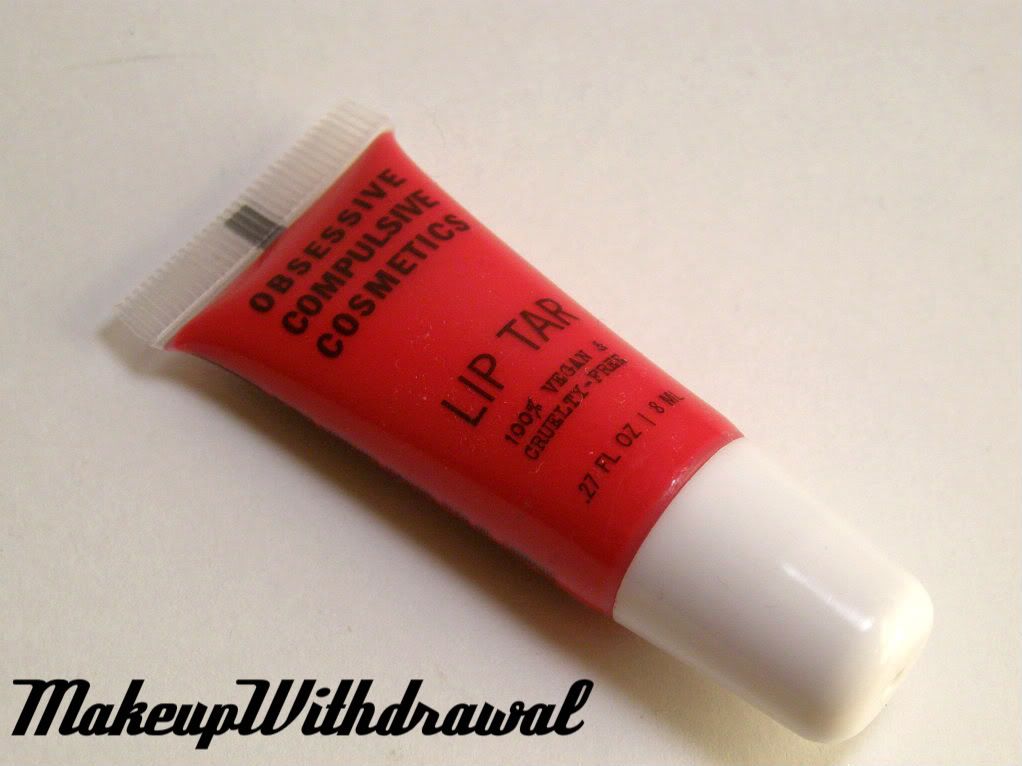 I have only reviewed the polishes from OCC, but today I have perhaps what they are best known for, one of their Lip Tars to show you.
Bloggers and makeup junkies everywhere have always extolled the wonders of OCC Lip Tars, and I am somewhat late to the party. Mainly because I don't wear lip products all that often and when I do, I have a handful of limited favorite lip products that I always reach for.
Today I am happy that a new and beautiful vibrant red joins my stash. Harlot is this insanely pigmented vibrant coral red. There is no way you could wear this lip color and not expect people to notice. It is not subtle and it is not for the faint of heart.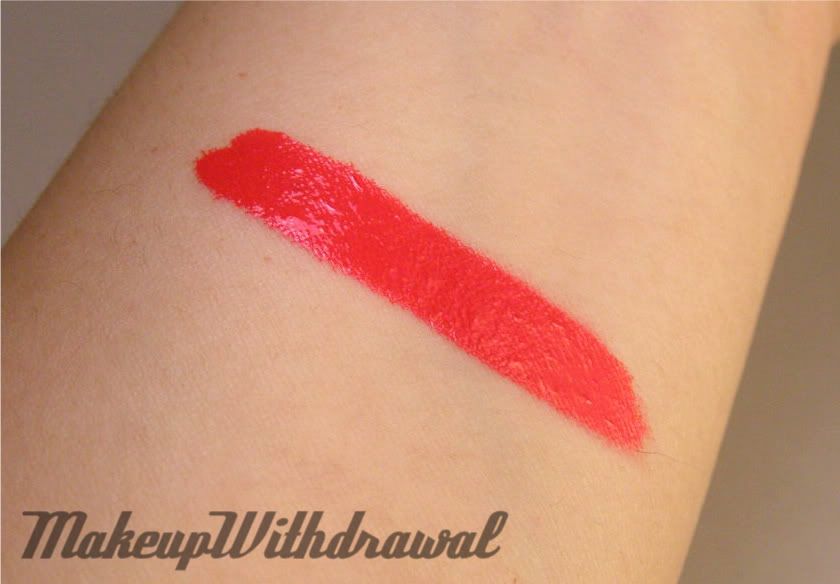 The original reason I never purchased any Lip Tars up until now was because of the name. "Tar" seems to indicate a thick, gooey texture and I'm pleased this is not the case. This product is actually quite thin and fluid, which is why I had an interesting time figuring out how to best use this Lip Tar.
At first, I applied it directly to my lips, without any liner. Due to its thin nature, it bled a bit. However, I discovered that using a flesh toned pencil such as MAC Chromagraphic or Stila Topaz to outline my lips or filling in my lips with a lip liner first remedied this problem.
Harlot mixed with clear gloss
There are a million ways to wear Harlot. I mixed it with clear Bobbi Brown Lip Gloss in Crystal to create beautiful glossy lips, I wore it by itself blotted down for a long lasting matte lipstain. I even wore it on top of another red lipstick to add a touch of coral-y red to my lipstick.
Though it comes in a lipgloss squeeze tube, I would highly recommend a fine lip brush to apply your Lip Tar. You will literally only need the tiniest drop. I'm pretty sure that I will never finish this small little tube in a lifetime, even if I wore it every day. It's that pigmented.
I most definitely want to buy more Lip Tars so that I can mix even more custom shades. Truly, this is a marvelous product and there are a whole host of reasons why you should treat yourself to one. Or two. Or a bunch.
OCC Lip Tars are $13 each and can be purchased online at their site (
here
).
Products featured were purchased by me, for my own use. For additional information, please refer to my Disclosure Policy.