New LE NARS New Wave Palette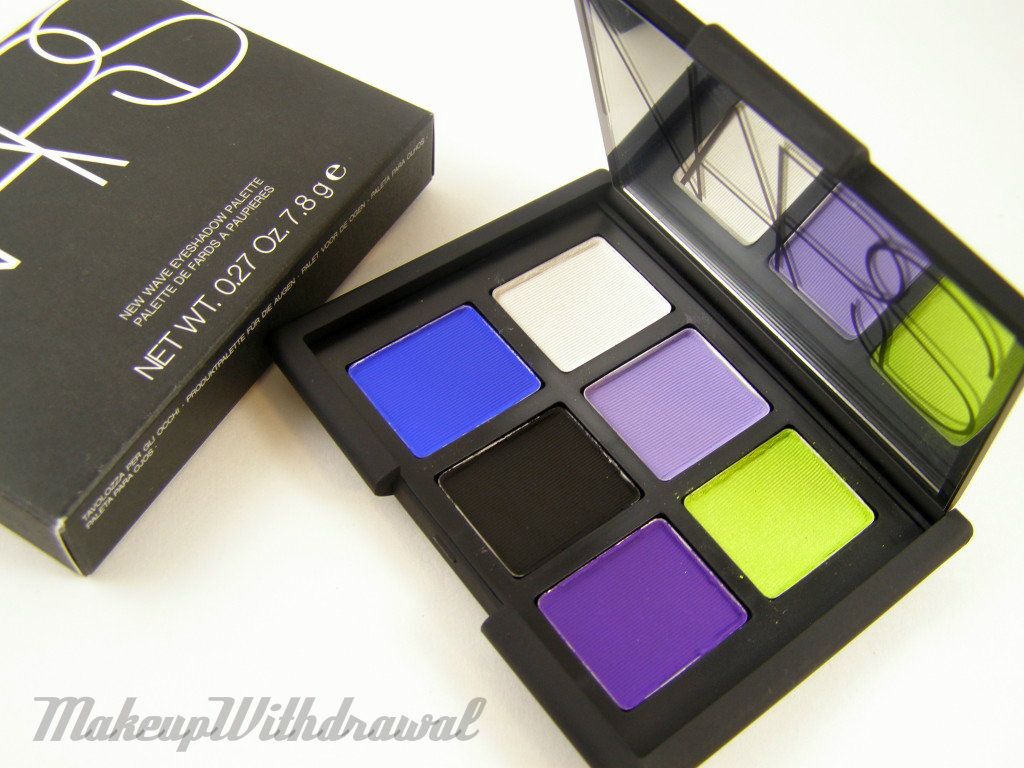 Usually when I get new makeup, I test it out and thoroughly play with it before writing about it. That's not the case today. I ran home and started to photograph and swatch this NARS palette, called New Wave as soon as got in the door. Due to the limited nature of this product, I thought I'd show you guys pictures and info about where to get it before they are all gone.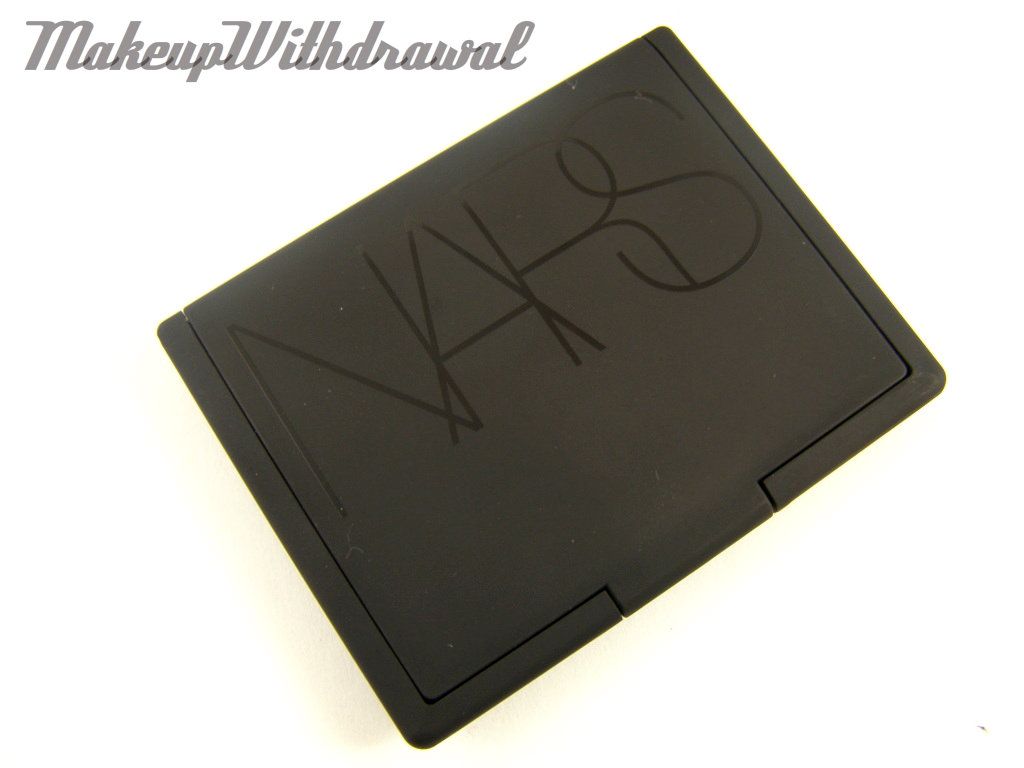 New Wave is one of two new palettes that are limited edition. The other palette is called American Dream. The shades in both palette are all permanent but like all NARS shadow palettes- you can't deny what exceptionally good deals they are, especially if you use NARS shadows a lot like I do but don't want to buy all the duos and colors individually. The packaging is different than my previous NARS palettes, with glossy 'NARS' embossed on the cover rather the traditional white lettering.
Let's jump right in. There are six shades, two that are shimmers and four mattes.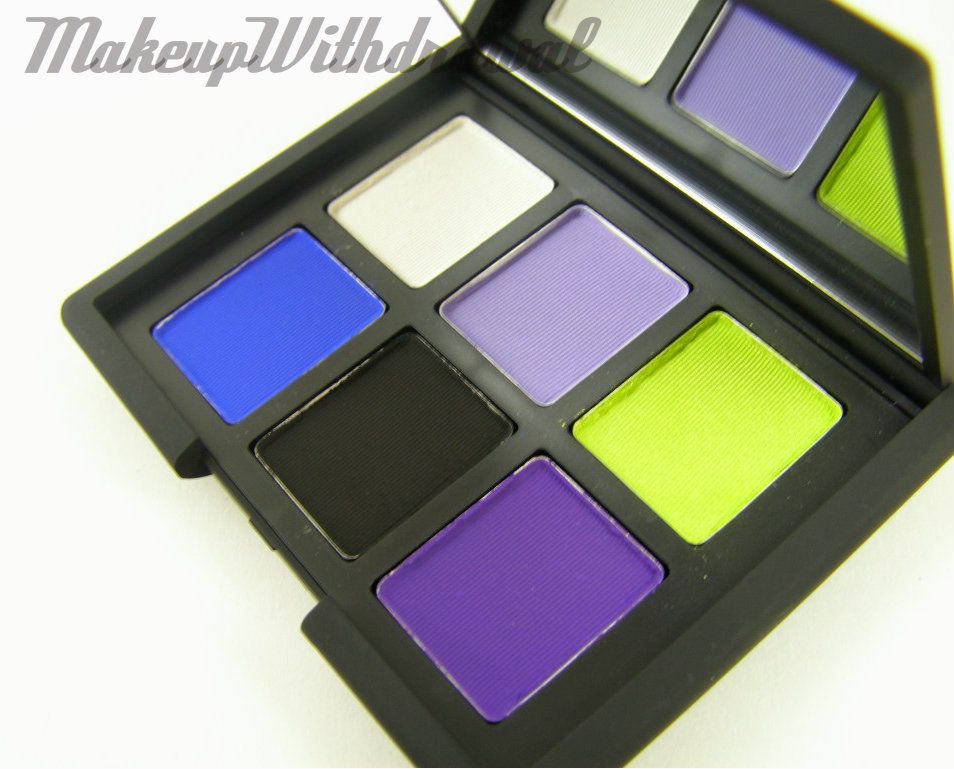 Top row: Pandora (II), Jolie Poupee (II), Rated R (II)
Bottom row: Outremer, Pandora (II), Daphne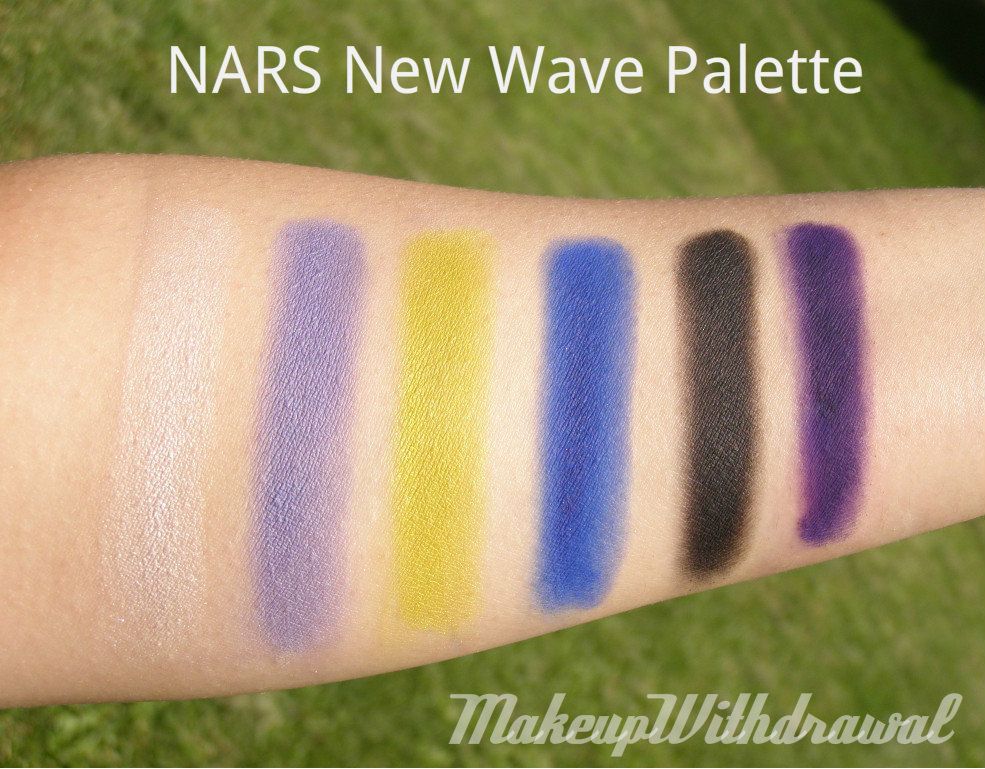 From left to right:
Pandora (II) is a sheer icing white shimmer.
Jolie Poupee (II) is a soft periwinkle matte.
Rated R (II) is a bright lime green-yellow shimmer (this does not photograph very shimmer both in the pan and in swatches but is quite evident in real life).
Outremer is a vivid ultramarine blue matte.
Pandora (II) is a matte black.
Daphne is a deep matte purple that is quite balanced, leaning neither red nor blue.
Based on my previous experience with NARS shadows, I can tell you that the mattes are what I like to call high
maintenance. To get the maximum color intensity and performance, not any old primer will do. Over my e.l.f. Eyelid Primer, they perform horribly- patchy with little to no color pay off. Over my LORAC Behind The Scenes Primer, they look fantastic. The key is to use a great primer and to use

MUCH MORE

than you usually would- a thick coat of primer. Also, apply your shadows while it is still a little damp on your lids, using a patting/pressing motion rather than sweeping.
Pandora (II) is rather sheer, but I don't mind it because it is much better as a inner highlight or brow highlight than it is a main lid color. The sheerness keeps it from looking frosty. The matte black Pandora (II) is really handy as a liner- talk about an all in one palette! Highlight, liner, vivid colors that blow my mind.
Where to buy this palette: This palette is $55 has sold out pretty quickly at many locations. Currently, it is not available online at the Nordstrom website any more BUT I have good news. I talked to the NARS counter manager, Tara Stugelmeyer at the Mall of America today and she has a few left. If you call her at 952-883-2121 (Extension 1427), you can still get your hands on one AND get free shipping on it. Even better, with Nordstrom's Anniversary sale going on, there's a GWP. If you spend $150, you get a free NARS lip palette with six shades!
Products featured were purchased by me, for my own use. For additional information, please refer to my Disclosure Policy.