On Friday nights, Mr. MakeupWithdrawal and I like to go out to a diner and chat while we consume milkshakes and crab cake burgers and the like. It's my favorite part of the week, 'cause nothing beats relaxing and eating diner cheesecake! Here's a few quick snapshot on my way out the door. Uhm, this look is neither polished nor inspired, I was just in a hurry, hah!
Face: L'oreal Magic Perfecting Base, MUFE HD, R&R Call Me blush, e.l.f. HD powder, NARS Concealer Ginger/Custard
Eyes: UDPP, La Femme Cake Mascara in black, Fyrinnae Polar Bear, NARS Earth Angel, MAC Blacktrack Fluidline, Avon Supershock Gel liner in Khaki Shimmer
Brows: NYX Brow Powder in Taupe/Ash
Lips: Urban Decay Midnight Cowboy lipstick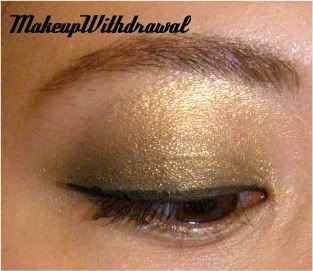 Thanks for looking! What was your FOTD today? Or recently?