FOTD: Fancy Feathered Halloween Eye
Saturday, October 30, 2010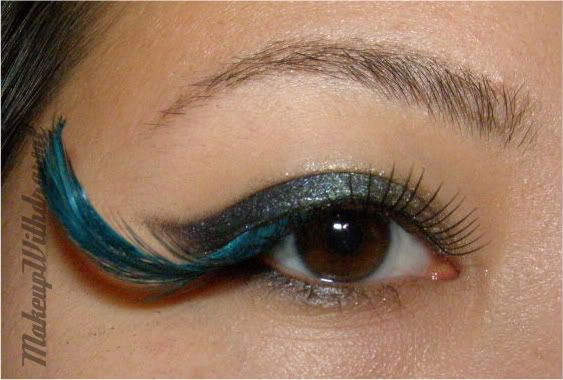 I didn't really feel like dressing up this year for Halloween. This is mostly because when I went to the costume store, all I saw were skimpy women's outfits that weren't really creative. In fact, at first I thought I had wondered into an adult themed store by mistake (sexy nurse outfit, sexy cop outfit, sexy school girl outfit, gross Snooki outfit, etc). It really put a damper on any Halloween spirit I may have had. Buuuuut, I did feel like doing something a little special to school on Friday.
This was a pair of fancy feathered lashes I picked up at the Halloween store for about $6, I think. They're made by Fantasy Makers (aka Wet'n'Wild). The quality wasn't too great- when I first took them out of the package and was trying to peel off that gummy backing that keeps it attached to the box all the feathers came off of the right lash band. I had to glue them back. They wore pretty well though, with just DUO Lash Adhesive. I brought the tube to school just in case I'd need it for touch ups, but didn't end up needing it. I also used:
Brows: Maybelline Define-A-Brow
Eyes: LORAC Behind The Scenes Primer, Sleek iDivine Storm Palette, Rock & Republic Fatalistic, LORAC Beige
The lashes didn't really bother me, but maybe it's because I'm used to wearing falsies. All I noticed was that my lids were a little heavier (work those eye lid muscles) and that there was a bit off blue fuzz at the corner of my vision. I got a lot of comments all day, but the funniest was "You look like a pretty little bird that just flew into my life." (I didn't say it wasn't also cheesy).
What are your plans for Halloween? Are you dressing up? Can I see?