Cargo St. Tropez Eyeshadow + FOTD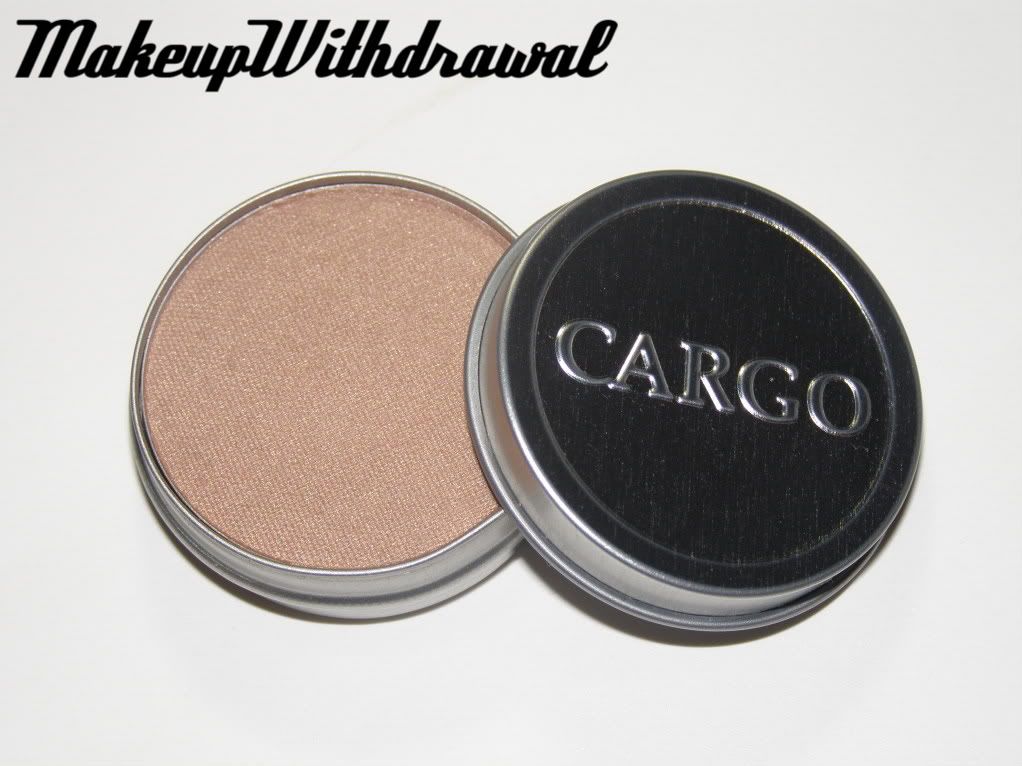 Hmm? What's this? Yet another neutral shimmering shadow? Why of course, I love neutrals especially if it's a shade I don't quite have yet.
I'd like to introduce to you... Cargo eyeshadow in St. Tropez! It's a soft golden tawny shade that shimmers quite alluringly in the pan. And ah, the pan- I simply adore the packaging. Something about the sleek tin embossed with Cargo's logo really appeals to me, so minimalistic yet so functional. It's a 36mm pan, but I have a feeling that due to the nature of the packaging, I won't be able to depot (not that I want to!).
Ok, so that's where my love for this eye shadow ends. It barely shows up on my lids, only as a faint orangey golden glow even though my skin tone hasn't gotten
that
tan (I'm guessing around NC25 right now). I don't think it's the most flattering all over the lid color like I had hoped it'd be.
I read the other reviews on MakeupAlley and it seems like 99% of people love this shadow, but for me it wasn't that great of a buy. In addition to not being a suitable color for me, without primer, it just didn't last at all. However, the formula was quite nice, very blendable- also decent pigmentation.
It does show up much better when wet, so that may be once option for me to actually use this shadow. The other option is to use it as a blending shade, to help ease the stark contrast between dark and light shadows so eye makeup looks less harsh.
I could do worse, I suppose. It was from a Cargo sale on Editor's Closet (the shipping took so ridiculously long that I don't think I'll every buy from them or their affiliated beauty site ever again) for $8. Factoring in shipping costs, it was closer to $12.
Here be the FOTD that I did with St. Tropez today. I decided that I didn't actually really like the lip color with it, so go ahead and take your finger and cover up that part of the screen. You can also mentally block out the wet hair. *Sigh* I really need to find a summer tan appropriate foundation.
Eyes: UDPP, The Body Shop #12 Matte shadow, Cargo St. Tropez shadow. Rimmel Sexy Curves Mascara. Wet'n'Wild Creme Liner, L'oreal HiP Loose Kohl.
Brows: NYX Brow powder in Taupe/Ash
Face: Monistat Gel, NARS Concealer in Custard/Ginger, MUFE HD, e.l.f. Complexion Perfection, The Body Shop Kiss of Colour blush in Golden Coral
Lips: Urban Decay Lip Primer, Maybelline #50 Red liner, MAC Viva Glam Cyndi lipstick
All products shown were purchased by me, for my own use.