An Awesome Gift: BarryM Dusky Mauve
Sunday, November 28, 2010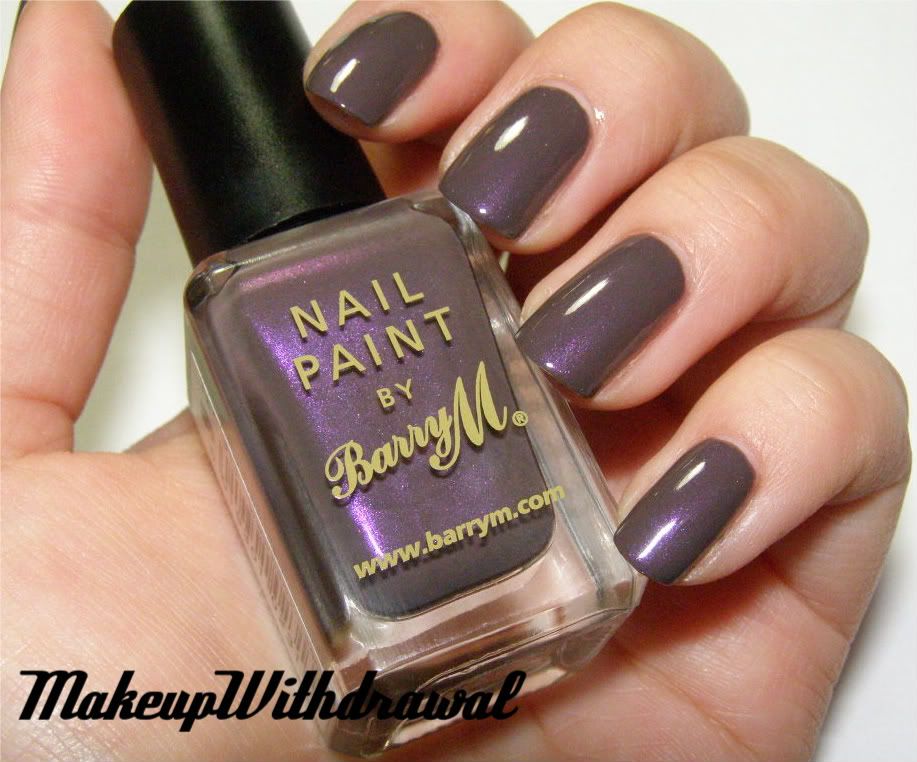 Indoors, light box, no flash. 1x Essie First Base, 2x Dusky
Mauve, 1x Sally Hansen Insta-Dri
Hello Readers! For all you Americans, I hope you've recovered from Thanksgiving Day gorging! For everyone else, well I hope you've had a great weekend too.
On Friday, I received a lovely package from Jian (who used to write
Pinkfish Pie
). It contained champagne truffles from Charbonnel et Walker (oh I how I loved them! If you ever get an opportunity to taste these, jump on that chance! They were simply divine and excited every taste bud I have. I somehow managed to make them last all weekend) and also a bottle of BarryM polish!
And not just any BarryM polish- it was Dusky Mauve! You know, the Chanel Paradoxal dupe? (Click
here
to see Lipglossiping's pics!). I was thrilled because BarryM is nearly impossible for me to obtain and there Dusky Mauve was, in my tight clutches.
Now, Paradoxal is a very interesting color, but there's no way in heck that I would have paid $23 for it. Nope, just not happening. I love that dark plummy taupes but I have to maintain some sort of price threshold or else I'd be beyond broke. So for the past few months, I had convinced myself that I was completely over that color. Seeing Dusky Mauve on my nails made me really fall for it again.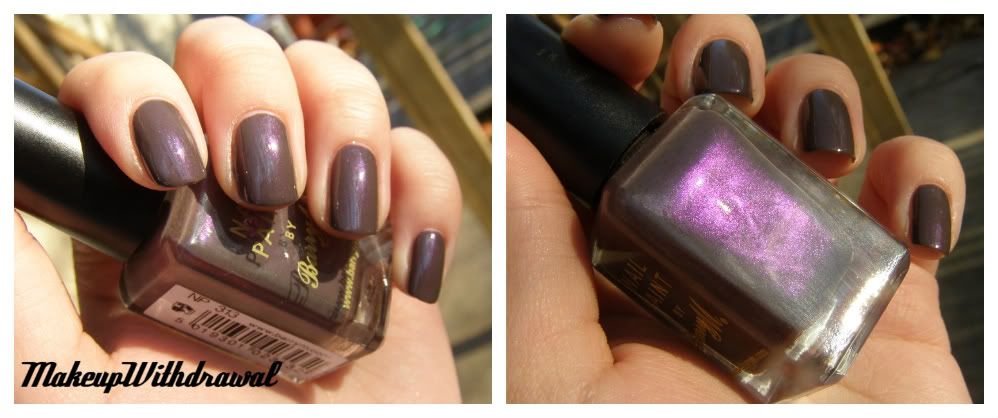 Pictures taken outdoors, no flash. Here, you can see the hidden shimmer I was talking about in the bottle
The hidden purple shimmer is really lovely, it gives an otherwise flat color a bit of interest.
The formula was really fantastic, I'm really falling for BarryM lacquers! It only took 2 coats for a completely opaque color. It wore really well and didn't chip all weekend.
I'm so jealous of you UKers! I looked at the BarryM site (boy, I wish I hadn't) shades like Emerald Green, Racing Green, Indigo and Mushroom look spectacular!

Thanks again Jian, for such a lovely present!
Have you owned any BarryM polishes? Did you like them?
Product mentioned in this post were gifted to me for my own use.