New Milani Jewel FX in Gold
Monday, November 22, 2010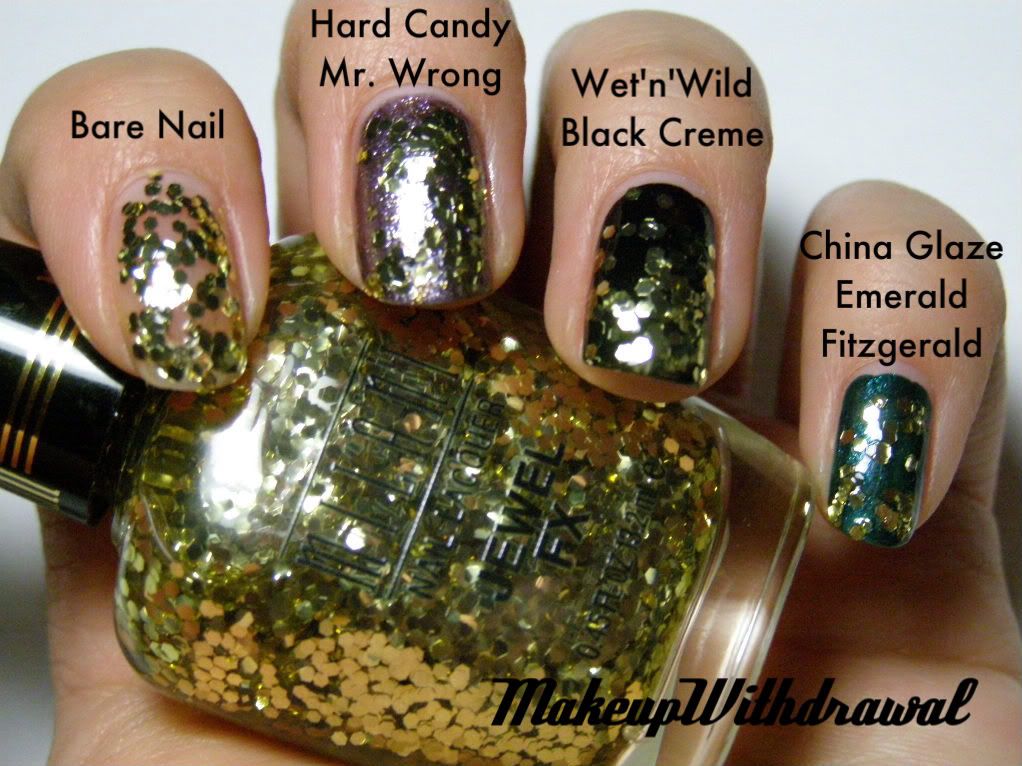 No flash, light box. Each nail is topped off with Sally Hansen Insta Dri and a
layer of Milani Gold Jewel FX. Left to right: Bare nail, Hard Candy Mr Wrong,
Wet'n'Wild Black Creme and China Glaze Emerald Fitzgerald
I'm not that big on glitters. Especially not when there's like different shapes, sizes and colors of glitter within the same nail polish. When I first saw pictures of China Glaze's 2010 Holiday shade Party Hearty, I was instantly disgusted. To me, it looks like you got drunk with the Glitter Fairy last night, who can't handle her liquor and she thew up all over your hands. And for some gross reason, you didn't wash it off. (Click
here
to check out VampyVarnish's post about Party Hearty!)
So when I saw the new Milani Jewel FX polishes I was intrigued yet repulsed at the same time. There's two of them, one that contains a rainbow of glitter in all sizes (instant turn off!) and one with large gold glitters. Ok, the latter I could kind of stomach. So I bought it!
What I like about Gold Jewel FX is that it's suspended very well and very dense in the bottle. This is the type of glitter where you don't really do one or two coats- mostly you use the brush to rearrange and dab more glitter where ever you see fit.
To be honest, this glitter just isn't me. If however, someday I was ever stranded on an island with only one item- hopefully it'd be this polish. Why? Because I could do like 4 layers of this on my nails and use the sun's rays to signal any aircraft, it's just that blingy!
If this looks like something you're interested in I'd hop on over quick to CVS or where ever Milani is sold in your area. There were only two slots in the display, so I'm guessing two bottles for each location.
Milani Jewel FX in Gold was $4.99.
PS: This polish is ridiculously hard to get off. Glitter hell.
What do you think of such big, blingy glitter? Or about multi colored glitters in general like China Glaze Party Hearty or Lippman Happy Birthday?
Product shown was purchased by me, for my own use.