LORAC Multi-Platinum Palette - Some Comparisons
Wednesday, November 17, 2010
Did you see? I swatched for KarlaSugar the Great today! Check it out
here
. It's a great honor to have my swatches on her site, since she's the ultimate authority on new collection swatches!
While describing LORAC Multi-Platinum, I mentioned some similarities that I noticed between two of the shades in the palette and two other popular products from other brands.
First, the eye shadow Heavy Metal from the LORAC palette reminded me of MAC's Smoke & Diamonds (Starflash Collection, 2008).
Swatched over bare skin, outdoors- no flash.
Side by side, they appear almost identical. They're even similar in texture though I find Smoke & Diamonds to be a tad bit more silky but Heavy Metal to be a little harder in the pan, but longer lasting. If I absolutely *had* to point out the difference between the two, I'd say that S&D is a bit more silvery cool while HM has a tiny bit more of golden warmth. But really, splitting hairs here.
Next up we have the blush in the palette- Couture (which is also in the LORAC Miss Davenporte Showstopper Palette, in case you were wondering). Couture's golden sheen combined with its shimmery pinky base reminded me an awful lot of Rock & Republic's Call Me Contrived Blush, which has sold out very quickly in the last string of half off sales and codes.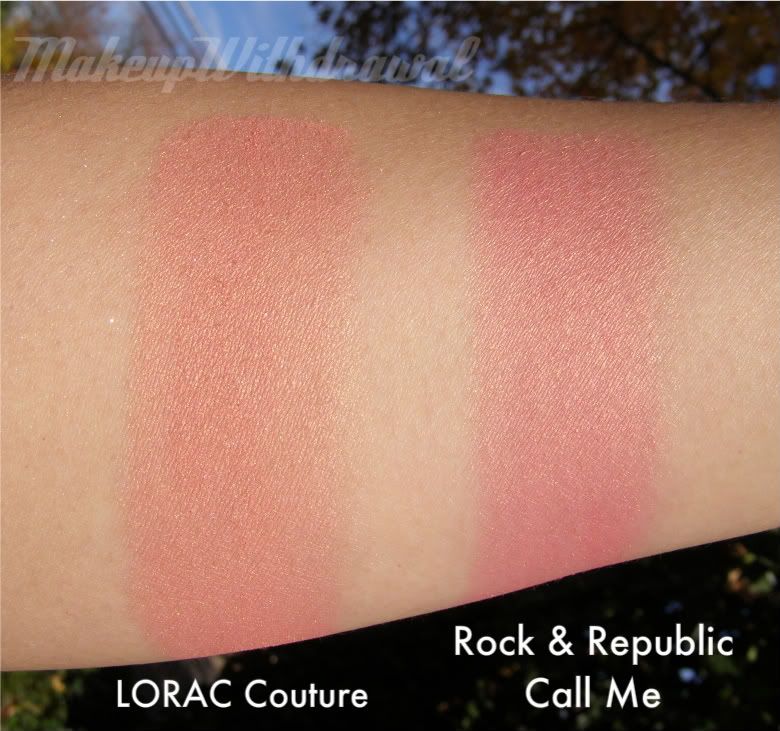 Swatched outside, no flash. Bare skin.
This time, the difference is a bit more noticeable. Call Me is less peachy than LORAC, but still very close. In fact, I'd say that the difference is more noticeable in photos than it actually is swatched on the arm- as though the camera amplifies the difference. Both have great pigmentation and are really finely milled.
So if you wanted MAC Smoke & Diamonds or Rock & Republic Call Me but couldn't get your hands on either, I find it safe to say that you'll find good dupes of both in this one LORAC palette!
Did you miss out on Smoke & Diamonds or Call Me? Do these dupes look like something you'd love to get for yourself?
Products shown and mentioned were either purchased by me or given to me as a gift, for my personal use.