New vs. Old Sinful Colors Nail Junkie
Tuesday, October 25, 2011
A few weeks ago, I was at Walgreens (hmm, quite a few of my stories are starting out this way) when out of the corner of my eye I spotted a bottle of polish on the Sinful Colors display. I picked it up and thought that it looked similar to my bottle of Nail Junkie at home. It was Nail Junkie- but according to my memory, this new bottle didn't quite seem right. So to prove a point to myself (that my memory IS fairly accurate) I bought this new bottle to compare to my old one.
Aha! As I held it side by side to my new bottle, I realized I was right. Old Nail Junkie had an even ratio of small and big glitter particles, but this new bottle was darker in color and had predominately large glitter pieces.
Here's three coats of each.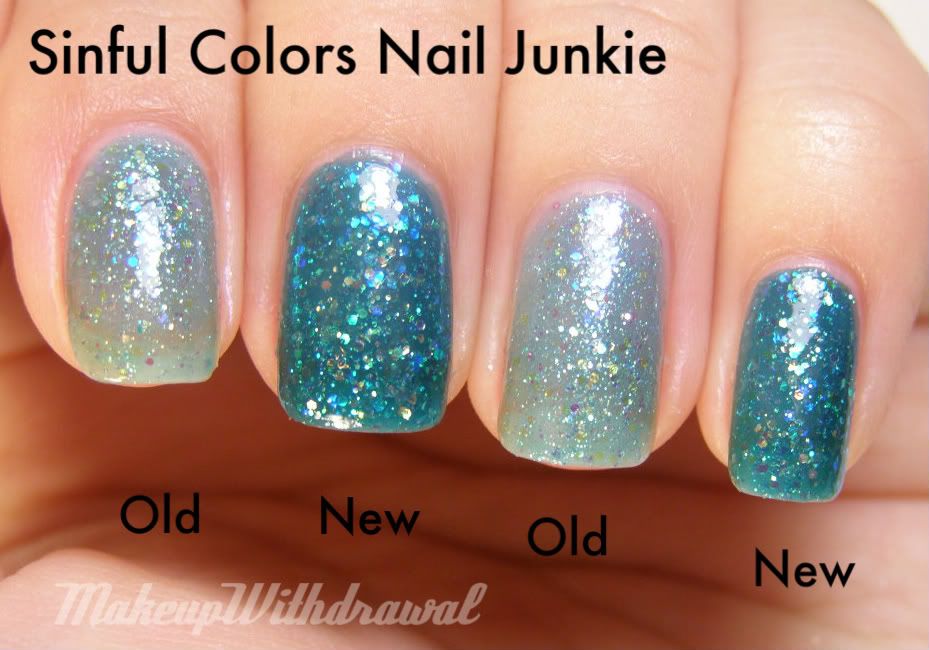 As you can see, Old Nail Junkie is really sheer. Ideal for layering perhaps, but not really that great on its own. New Nail Junkie looks better by itself, nice glittery jelly.
On top of black, they look almost the same. The Old version is slightly more dense with small glitter particles. How do you tell them apart? The New Nail Junkie has "SC" on the top of the cap.
Why am I telling you about a Sinful Colors polish? Well, this week at Walgreens, they're on sale for 99cents. So if you happen to stop by, I'd recommend picking up the new Nail Junkie.
Have a great night!
Products featured were purchased by me, for my own use. For additional information please refer to my Disclosure Policy.