Good evening!
I think it goes without saying (but I'll say it anyway) that this polish is spectacularly blingy. I bought this about a year ago, swatched it once on one finger and never took a good look at it under good direct light. My mistake.
Funky Fingers Moonwalk is jet black creme with silver and holographic glitter in slightly varying sizes. I think that the difference in particle size gives it a even more scattered rainbow look.
I think it's well named. Even though I know the moon is far from being rainbow colored, there is something extra terrestrial about this polish. Kinda like pictures of galaxies, far far away.
There's a shot without the bottle. This might be the first time where the bottle is actually distracting in the picture. Isn't that lovely? I thought it'd eat top coat like crazy but actually one coat of Gelous covered it nicely.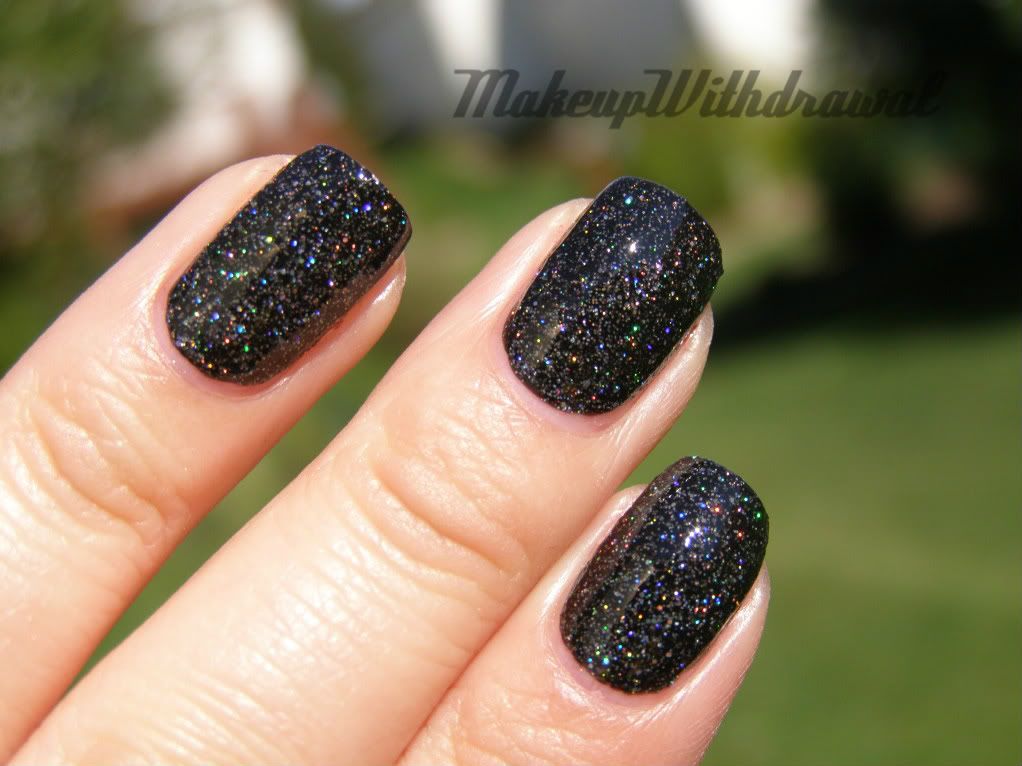 Super pigmented, this was only two coats. People who are heavy handed with polish might even be able to do it in one.
Unfortunately, Funky Fingers is quite hard to find. I've only ever seen it at 5Below stores, but some regions don't have them. Also, the selection varies seasonally. On the bright side, Color Club (also owned by Forsythe, who owns Funky Fingers) is known for repromoting FF colors in CC collections. Maybe we'll get lucky and it'll come out again with a different name.
Product featured was purchased by me for my own use. For additional information, please refer to my Disclosure Policy.