Zombie Pub Crawl Makeup (Braiiiiins!)
Last night, I attended the annual Twin Cities Zombie Pub Crawl and had an absolute blast. It was so much fun sitting in bars with other zombie patrons, seeing zombie entertainment and zombie dancers. My friend remarked that this must be what it's like to live in Halloweentown (Disney flashback, anyone?). There were so many people participating that the people not dressed as the living dead and covered in blood where the ones who looked out of place! I really wish that this sort of thing could happen more often.
As you can see, I went as a zombie nurse. I forgot to take a picture with my red cross eye-patch, which I regret.
Makeup took about 2 hours. The cheek wound actually looks like it blends in, but the flash on my camera makes it appear fake, unfortunately.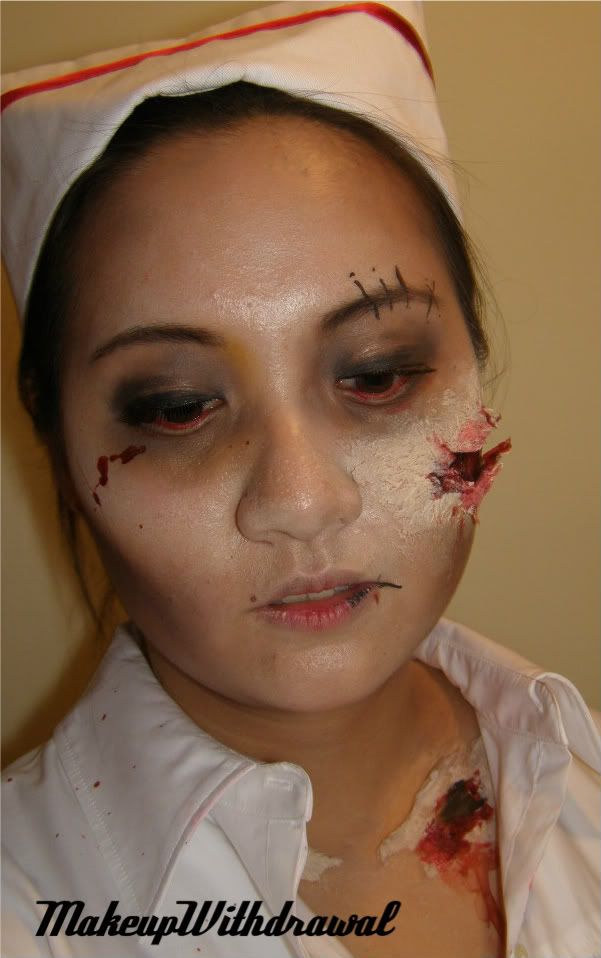 I used:
Brows: NARS Bali shadow, L'oreal Lineur Intense for the stitches
Eyes: UDPP, Rock & Republic Fatalistic shadow, MAC Copperplate, MAC Goldenrod, Illamsqua Daemon shadow, La Femme Eyeliner Sealer, LORAC Beige shadow, false lashes
Face: NYX Highlighting liquid, Ben Nye Conceal All Wheel, LORAC Smokin shadow, the darkest purple matte shade from Wet'n'Wild Lust palette, Urban Decay Deslick in a Tube, BECCA Fine Loose Powder in Sesame.
Wounds: Gelatin/water mixture, tissue paper, theatrical blood, MAC Blacktrack Fluidline, Ben Nye Conceal All Wheel
Lips: MUFE Full Cover Concealer, theatrical blood, L'oreal Lineur Intense
WHAT DO WE WANT?
BRAAAIINS!
WHEN DO WE WANT IT?
BRAAAIINS!
Has anyone else done any zombie makeup before? I'd love to see!
Products featured were purchased by me for my own use. For additional information, please refer to my Disclosure Policy.