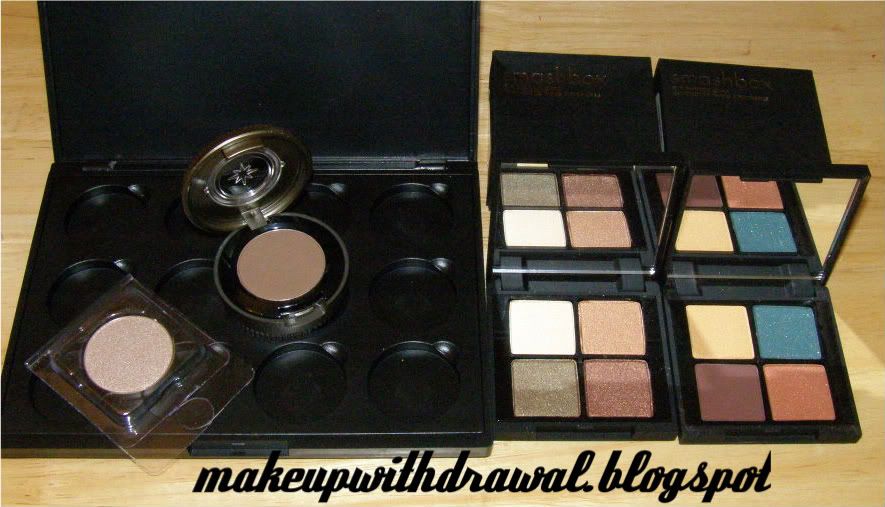 I love AllCosmeticsWholesale.com to death. I really do. It's a great site that sells middle end and high end cosmetics (some discounted or from previous seasons). It's absolutely terrible for my wallet though, because I'm always browsing their inventory (which gets updated all the time) and finding things I really want and can't resist because they're so cheap. I placed an order last Saturday, and this morning I got up early because I was so excited for it to get here (my desperation is indeed deplorable. Also, the mail man doesn't actually get here until 1pm, so I watched Weeds for five hours, with occasional peeks out the window.)
This time, I ordered a 12 slot SMH magnetic palette, a SMH single, Smashbox quads in Ambient and Electric and an Urban Decay single in Secret Service.
First, the palette. The 12 slot palettes made by Stars Makeup Haven are actually a little different than the ones from Coastal Scents. The divider (the part with holes that the pans fit into) from the Coastal Scents ones are made from
neoprene, so it's more cushiony. I feel like it absorbs shock better (I drop things a lot, can you tell?) The divider in the SMH palette is molded plastic and the little hole on the side of each well isn't as deep as the CS version. This makes it a bit harder for my clumsy fingers to pry the pans out. Even with a bobby pin, it's still hard to get out. The differences are minute, and they're about the same price, so no biggie. (Coastal Scents version is $7.95 and the SMH version is $8.85)
I've had my eye on the Stars Makeup Haven singles for a long time, ever since I saw them swatched on KarlaSguar's blog. They looked really good and well pigmented. But they're only $4.95 each so I knew that if I wasn't careful, I'd probably go overboard. I only let myself buy one to start out with, to see what the quality was like. I'm very pleased! This particular shade, Carnal Knowledge is silky and smooth and the perfect light champagne shimmer. As an added perk, I also really like how there's a label on the back that tells you what shade it is, pretty convenient that I don't have to bust out my label maker.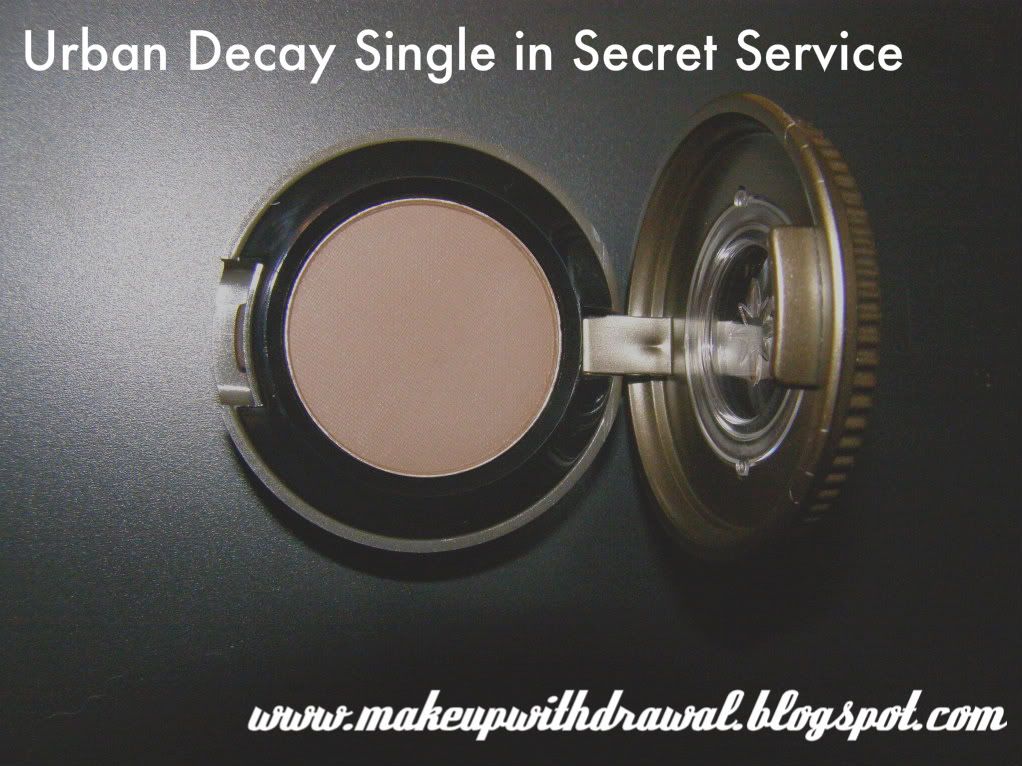 My other single is Urban Decay's Secret Service. I only recently started getting into Urban Decay eye shadows, because I was frightened of the glitter I hear a lot about. So I decided to ease into the process with a matte shade. I got this for $7.99 (amazing price for UD shadows) and I'm glad I did, because it's discontinued. I have a confession to make, once I started to use LORAC matte eyeshadows, I never thought I'd be impressed by the texture of another brand again. Luckily, I was proven wrong. This single is the most finely milled eyeshadow I think I've ever touched. I'm not sure about the blendability or the staying powder yet, but I'm loving the taupe color. I like that it has a touch of dark grey, which makes it look very grown up. My family of taupe eyeshadow gladly flings open their arms to welcome such a nice shade.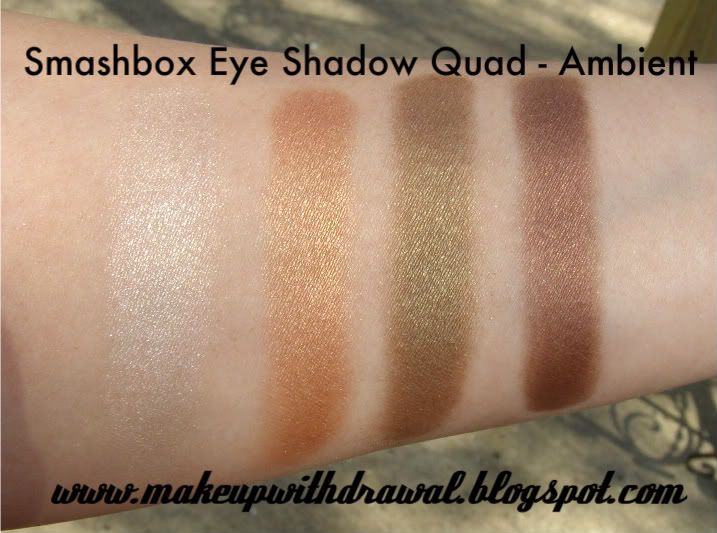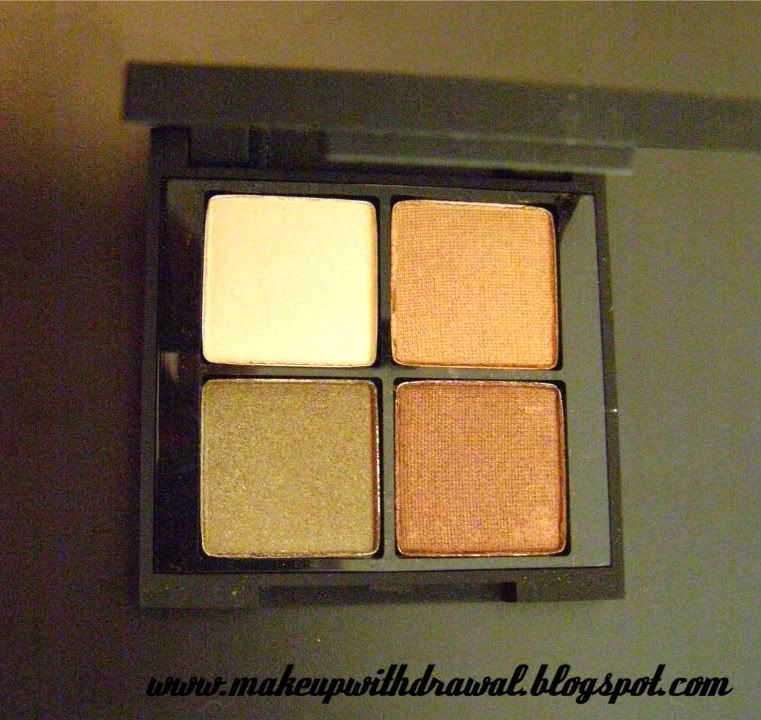 The two items I was most excited about were the Smashbox quads. However, they did turn out to be much smaller than I had expected (I'm not sure why this matters to me, because as of today I have never ever finished an eyeshadow, so worrying about running out is a rather irrational fear). They're still lovely, nonetheless. Ambient contains rather generic earthy shades (all shimmers)- a creamy white, a orange tinged gold, a dusky olive and your very basic warm brown. The color I like the best in this quad is the olive. It's rather green in the pan, but on the skin it becomes wonderfully complex. It's one of those rare warm olives with soft hints of sienna.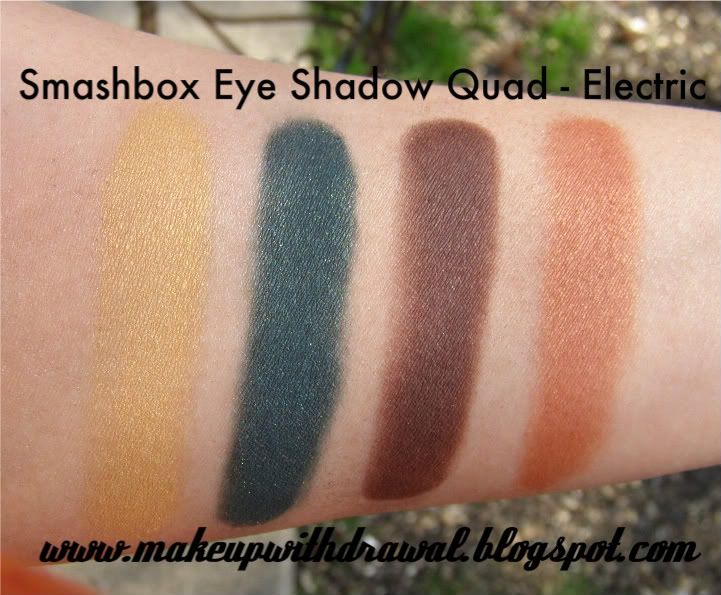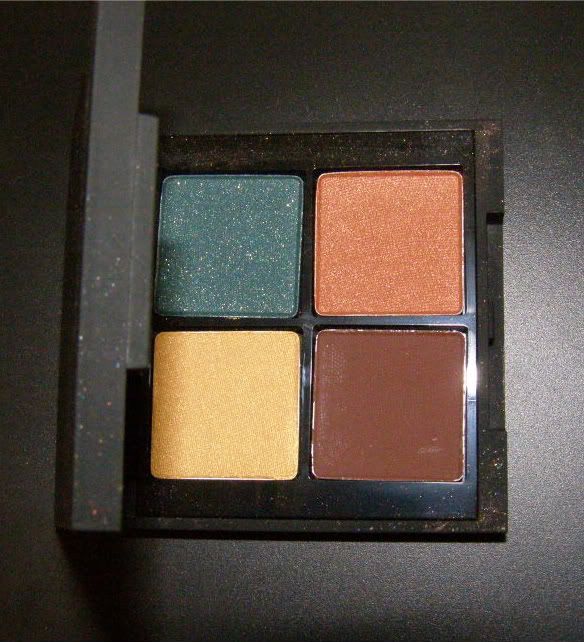 The other quad was Electric and I have to start out by marveling at the pigmentation, especially in the dark teal. There's two shimmers in this quad and two mattes. There's a bright sunny shimmer yellow, a dark matte teal with silver glitter (for the first time in my life, I'm not repulsed by it), a matte chocolate brown and a dusky orange-peach shimmer. I suppose the two matte colors could be a little smoother but that's something that extremely hard to do with deeply pigmented mattes. Oh yeah, both these quads were $7.99, oh hell yeah.
I'm going to have to excuse myself so that I can play with my new toys. So, like what you see?