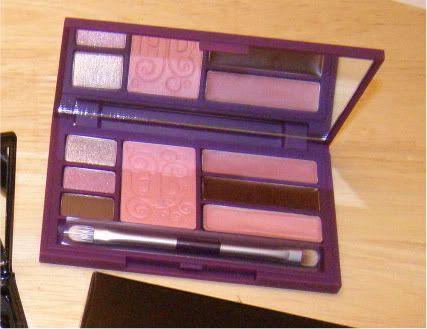 I bought this last week at Ulta (grrr. Before it was available online at UD's site) after I saw pics of it. It's $14 and contains 3 shadows, 1 blush and 3 lipglosses. The case is made out of velvety, rubbery purple plastic and 1.5 times the size of a Blackberry Pearl cellphone. The eyeshadows are three really popular shades: Midnight Cowboy Rides Again (champagne glitter), Grifter (lavender glitter) and Twice Baked (satiny brown with micro glitter). The three glosses are Naked (pink), Love Junkie (sheer dark berry) and Carnie (sheer milky pink with micro glitter). What's nice is that the blush is brand spankin' new, Hookup which is a sheer pinky coral flush.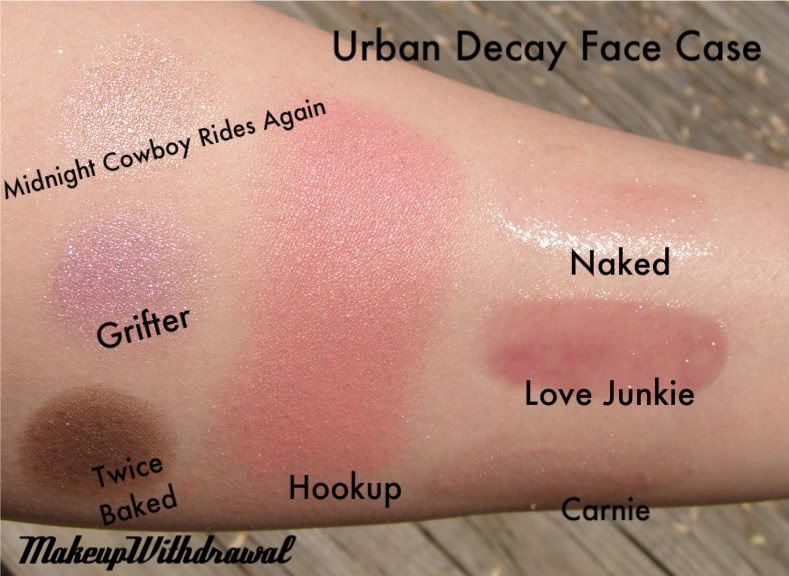 If glitter isn't your thing, I wouldn't take a second look at this palette. Sure it's cheap, convenient and cute, but it's chock full of glitter. I even tweeted Urban Decay (UrbanDecay411), asking if it's contacts safe but the never got back to me (suuurpise). The best part of this palette is the lovely blush which despite being sheer is pretty decently pigmented and isn't powdery. That's a big deal to me, because there's nothing worse than a super powdery blush in a palette that ruins the nearby lip glosses by flicking excess powder on to them!
So, what do you think? Gonna get one?
All products shown were purchased by me, for my own use.