MAC Pret A Papier: Chromagraphic Pencil
Wednesday, April 28, 2010
While browsing through the Pret A Papier collection online, I stumbled across a product whose function I had not an inkling. Chromagraphic Pencil? Huh? Rather than give me clues, its name only confuses me further.
I -had- to see it in person. So yesterday I went to the mall and after returning something at Sephora, I figured I'd let myself take a closer look.
What it is: creamy skin toned product in pencil liner form. It's like concentrated concealer, but sharpenable. I was surprised at the smooth consistency (I like to set low expectations for products people rave about, just so I can be pleasantly pleased if it does work out) and even more so at it's lasting power. It comes in two shades; NC15/NW20 or NC25/NW30, of which I picked the former. The pencil is made from hard wood, much like an artist's pencil (a big plus for me, I really dig artsy makeup) and is $14.50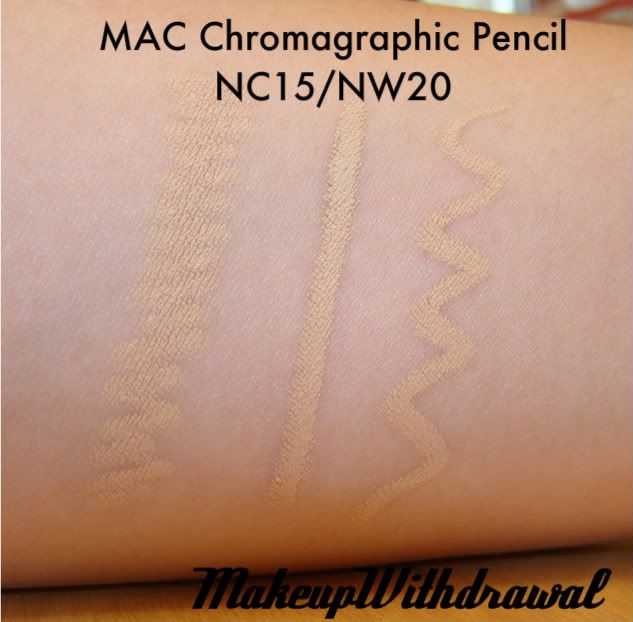 I use it on my waterline, for hiding redness and giving my eyes an overall fresh, well rested and alert look. It's very subtle, but it does give me a little something extra and I clearly need all the help I can get. So far, it's been about 8 hours plus for lasting power. This simply confounds me. How can something so creamy last so long? Normally anything on my waterline lasts about half an hour (with the exception of kohls and Prestige Total Intensity liners, ♥) but this lasts all day, and when it does fades gradually instead of patches missing from my line.
Another thing that I discovered this morning was that this pencil is great at tidying up the brows. I drew a thin line under my arches, blended with my finger and it gave them a bit of lift (as well as hiding a few stray hairs) and also lined the inner edges (closest to my nose) to make them look more polished.
In addition, this pencil can also precisely contour areas like the nostrils and cupid's bow (though it is not lip safe, so stay away from your puckers).
Here's the sad part: though it's only been available for about a week, the lighter shade is already sold out online and at many MAC counters (I grabbed the last one :D).
I chose this product rather than a lipstick or eyeliner (though Dressmaker, Dressmaker was tempting) because I'm trying to opt for products that are multi-functional. Plus, I purchased like 7 lipsticks last weekend (bargain bin find!) so I couldn't really justify another one.
So, what do you think? As curious as I was about this product?
All products featured were purchased by me, for my own use.