Here's a few of the Formspring questions I've had lately:
Hi there yr makeup tutorials is awesome! recently i saw yr tutorial on highlighting yr face. Which highlighting cream u use?Pls share! Thanks!
Thanks! I appreciate it!
I use Boots No 7 High Lights Illuminating Lotion (which is a dupe for BeneFit High Beam) and also Wet'n'Wild Acapulco Glow Bronzzer (which was sadly discontinued)
What's the number one thing every woman should do everyday, that won't take a lot of time, to make her look fresh?
I think highlighting is the greatest thing in the world to add extra 'oomph' to any look. I think there's a highlighter out there for every age- whether it be a satiny sheen or glowy shimmer.
I actually have a video on this :)
Are you team edward or team jacob? lol I had to ask! You know my answer!
Team Edward. Hands down. I mean seriously. I mean, a big hairy dog is nice to cuddle and all, but I wouldn't want to marry a werewolf.
I would elaborate on this answer, but I don't want to reveal how emotionally invested I am on Twilight.
Hi, I have Lorac Reverie and Mac Prepped for Glamour. I think they look exactly the same but your swatches make Prepped for Glamour look darker. I'm thinking of returning the Mac one since I can't tell the difference. Any thoughts on the 2 colors?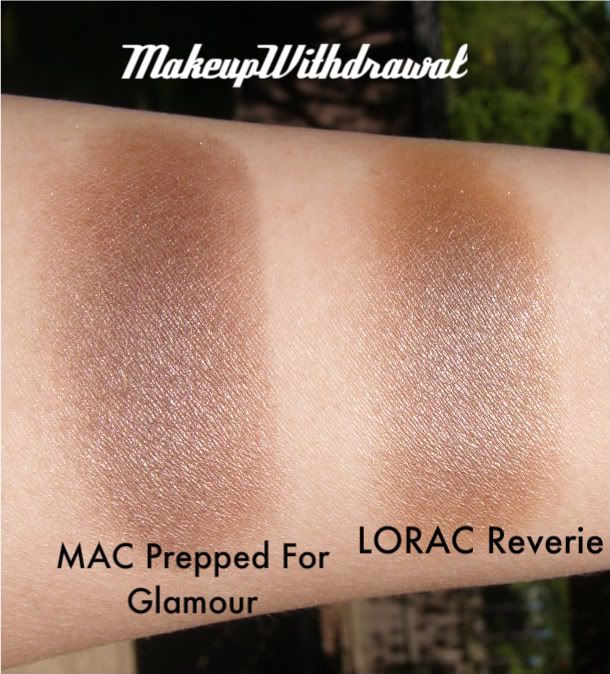 Hey there, thanks for the question!
You're absolutely right, in the pan the two eyeshadows look identical. When swatched though, they look slightly different in natural lighting. I find that Reverie is a bit warmer and more bronze while Prepped for Glamour is slightly cooler and has a tinge of burnt sienna. Here's a pic of them side by side:
http://i860.photobucket.com/albums/ab163/MakeUpWithdrawal/Reverie113.jpg

If you can't tell the difference (I can't either in artificial lighting) I would definitely return it! Might as well exchange for a completely different and unique color, right?