I ordered some stuff from Fyrinnae a couple of weeks ago, but didn't expect my stuff until later (they have a rather long estimated wait time, to actually create the products). I played with all the items over the weekend and thought I'd share.
The Velvet Gel Silica Primer- I had heard so many wonderful things about this primer! It gets so much love on the MUA boards- its supposed to provide oil control, a great finish and be silicone free. Unfortunately, I was really underwhelmed by it. Maybe it's because I already use aloe to moisturize and silica to set my makeup. I noticed a few things about it in particular that I really don't like- it dries out my foundation as I'm applying it and I get a cakey finish) and also that it leaves a noticeable white cast if you apply generously. Even when I scaled back and used less, it made my face look really pale (not that I have anything against pale skin, it just looked like an unnatural pallor). Perhaps I'm just spoiled by silicone primers, but I didn't think it hid my pores well either. It did keep my t-zone rather matte, but unfortunately it was at the expense of my foundation application and correct skin shade. I did get a nice, tight smooth skin surface from it but honestly, the same effect occurs with just aloe gel applied liberally over the entire face and a light dusting of silica when the makeup is all done. It's really too bad, I had wanted to like this so madly and wanted it to be my summer primer because it was so cheap! ($5.50 for a half ounce tub)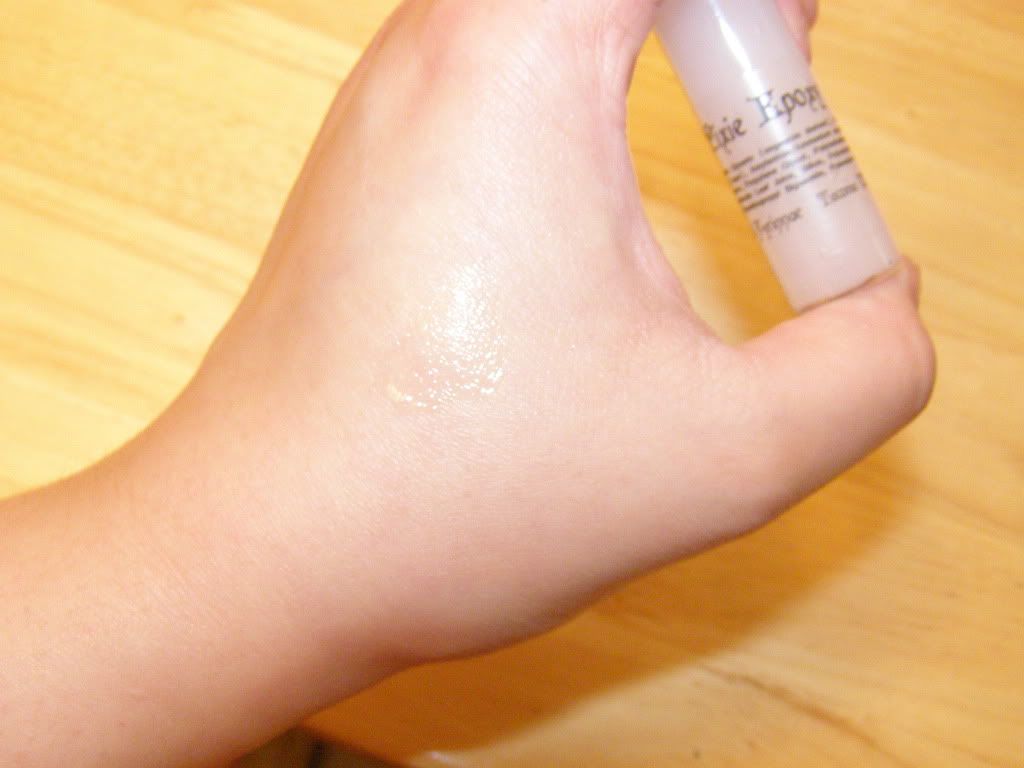 Pixie Epoxy- Oh, this is some wonderful stuff. It's not an eyeshadow primer exactly, it's like super glue for your really shimmery, glittery shadows. It looks a little milky in the tube, but it's clear in the tube. On their site, the creators of Fyrinnae products caution against using too much of it and I'd have to second the motion. If you don't use the tiniest bit, it'll completely saturate the shadow instead of adhering it and you'l end up with a streaky gloopy mess. Apply a little bit, let it get tacky and apply the shadow. Fyr's site also states that it's supposed to enable you to blend and brush on glittery shadows instead of patting them on, but that's one claim that I don't think it quite lives up to (really uneven application when I tried this). Also for shadows that are more matte or satiny, it darkens the color. Still, at $7 a tube I think it is an absolute must for glitter hoors who want to minimize fallout (Urban Decay owners, I'm talking to you).
I bought mini sizes of four taupe-ish colors (they have an entire taupe category on their site! Heaven!) and they gave me a sample of another taupe! Also, I swatched a shadow that an MUAer had sent me a sample of. What's that you say, the shadows look like dirt in tiny little jars? A year ago I would have agreed with you, and possibly passed these shadows over as ugly bland colors that reminded me of dust. But upon a closer look, these shadows are actually remarkably complex and quietly stunning.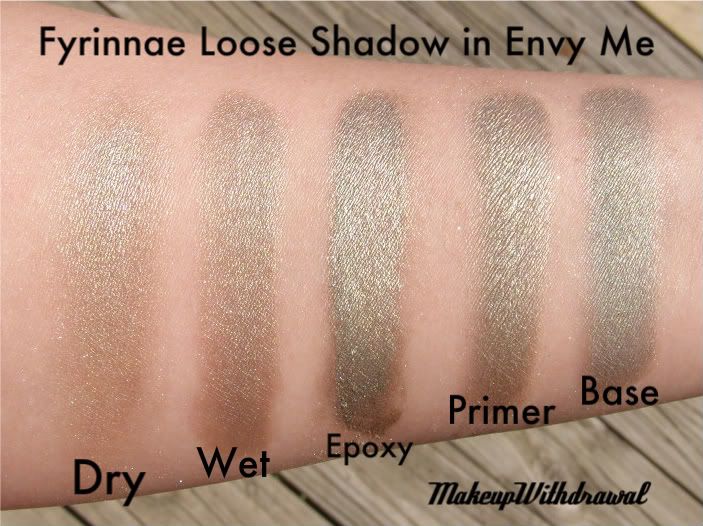 I had to take three different pictures of Atomic Afterglow just to capture it's unique color.
Notes: All of these colors are extremely had to photograph because they have subtle sheens and colored sparkle. Envy Me is a light taupe with green sheen. Arcane Magic: Warrior-Mage is Black-Blue with Green Shimmer and multicolored sparkle. Snow Leopard is a golden taupe shimmer. Cookie Dough is a light satiny taupe. Damn Paladins is a light taupe with a hint of plum and blue sparkle. Atomic Afterglow is a grey shimmer with opalescent sheen (green golden pink) and sparkle (holy cow that one is complex). All of them don't wear very well on their own, but do well with primer. Hit or miss over Epoxy. Warrior Mage is somewhat streaky, if you try to blend the beautiful green shimmer buffs away and you're left with only the black-blue color.
Final verdict- very beautiful unique colors that I might otherwise overlook. I wished their shadows had some sort of binding agent (you know how MAC pigments ball up?) because sometimes the application is streaky, like the eyeshadow is separating. I'll definitely be buying more samples and I advise others to do the same. Their mini sizes are very generous, I don't think I'll never finish one so why buy a full jar?
All products featured were purchased by me for my own use.