Dueling Eggplants: L'oreal HiP vs Maybelline EyeStudio Liners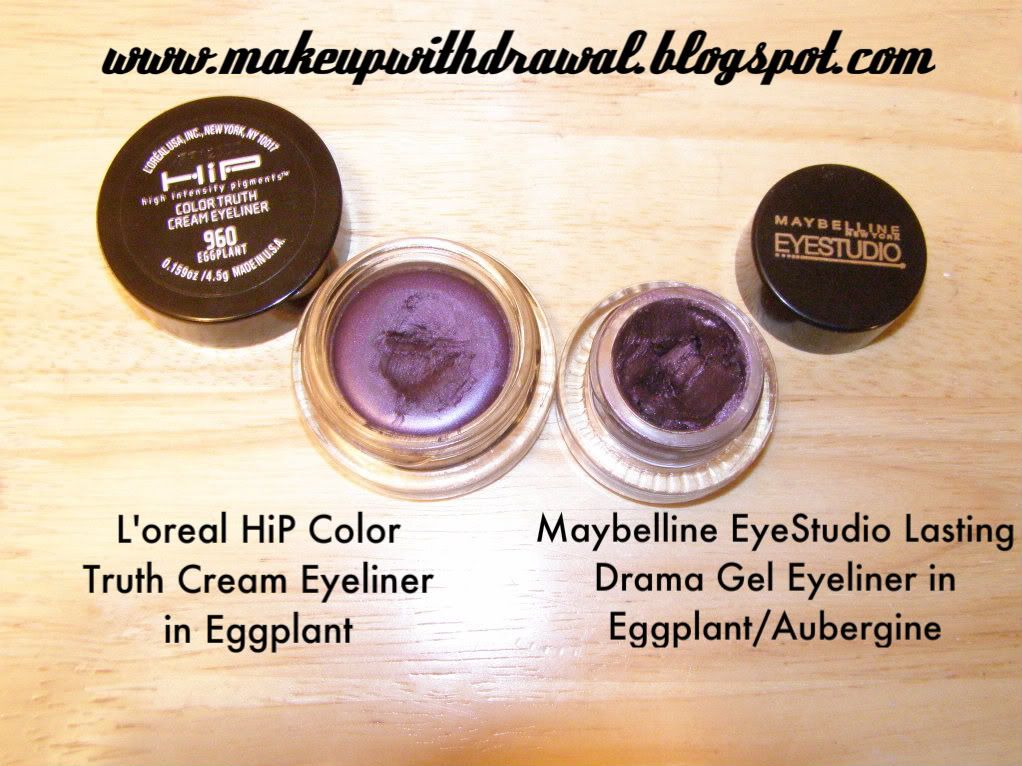 Ah, violet liners- how you tempt me so. It doesn't matter that I already have about 5 of you in liquid and pencil form but I crave you even more.
Now, I finally got around to getting the L'oreal HiP Cream Liner (I'd been telling myself over and over that I really didn't need it, but it was 40% this week at CVS and free with my bonus bucks) and I'm glad that I did.
Dark plummy liners are so shhhhhhexy. Blargh, that usually drives me crazy when people type like that, but for aubergine colored liners, I'll make an exception. I like how they're completely professional looking (when applied liberally of course) but also great for doing a dark violet smoky look to make eyes smolder.
I'm blabbing, on to the actual review.
Here's what they had in common: both came with brushes that I wouldn't really use for liner. The Maybelline brush actually makes a great lip brush, great for nice edges. But I don't like how it's rounded, I'm a liner control freak that requires precision. The HiP one could be usable in a pinch, but the applicator is just so small it becomes hard to handle. Both are also housed in small glass pots, with plastic caps.
Quick note: This is NOT my wrist. It's my fiance's. That's why it's really hairy and a tad darker than mine (he's about NC25), I did not become infected with lycanthropy . Also, there was no way I could drag him outside to take pictures, I'm afraid you'll have to do with indoor shots with flash.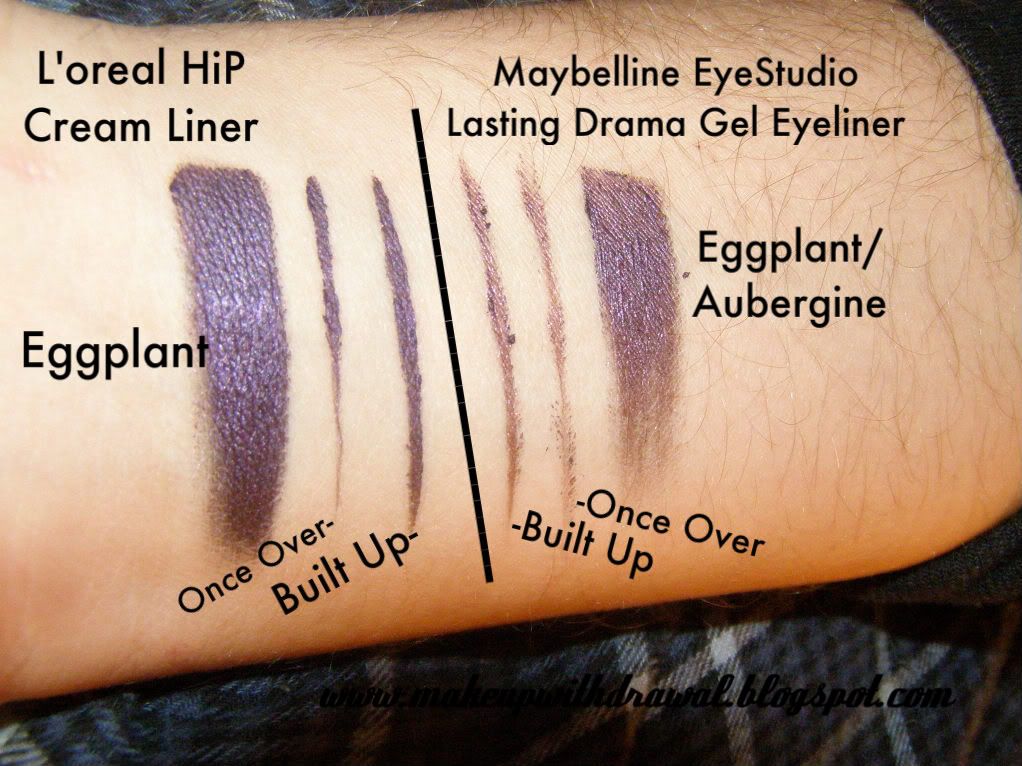 The Maybelline one is much more sheer and though it's billed as a gel, is harder to work with (kind of chunky). Also- a pet peeve of mine is that in the picture of the 'final look' on the packaging it looks really opaque and dark, but in actuality it's got kind of got gold shimmer and really quite see-through, requiring many layers to build it up. The few times I've worn it, it's smudged. Grr.
The L'oreal HiP one is creamier, but more blue violet than the other and darker. It's more subtle, less shimmer and much more opaque. Easy to work with, as you can see it only takes one swipe to reveal the color. This one wins, hands down. It might look dull to those looking for a pop of color- it's really more of a 'unblack' when lining the eyes. Pretty long lasting on the eyes as well.
Tiny bit of difference in the amount- L'oreal 4.5g vs Maybelline 3g.
Here's the worst part- you want to know the reason why I swatched it on Mr. MakeupWithdrawal? Because in the few times I've played with the Maybelline one, it has stained like you would not believe (Luckily, this is the type of thing he won't notice). Seriously- gross grey stains that take a few days to come off. Come on now, Maybelline- what's the deal here?