FOTD: Stila Marrakesh Quad- Natural
A dear friend gave this to me, and I thought I'd try it out today. It's uhm, very sparkly. Very. I think I might save this for when I need to dazzle, not day to day use.
I managed to tone it down for this look though! Super simple, day to day.
Face: Revlon PhotoReady, Smashbox Hybrid Primer, Spank Blush, TBS Matte & Shimmer Cheeck Color, R&R Spank.
Eyes: UDPP, Stila Marrakesh Quad, Urban Decay 24/7 Zero liner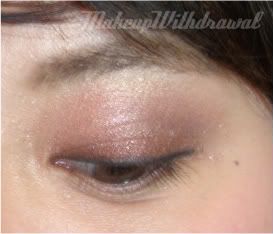 Lips: Revlon Super Lustrous In the Glow
All products mentioned were purchased by me, for my own use. Except for the Stila, which was gifted.