Tales of the CCO: Bobbi Brown Chrome Eye Shadow in Pewter
Last Monday, Mr. MakeupWithdrawal had the day off and graciously let me choose what activities the two us would enjoy that day. I opted for a trip into Pennsylvania, to go to a park with our dogs and that I might indulge my fascination of Amish and Mennonite culture. Me, being super sneaky managed to to convince Mr. M to let me run into a Cosmetic Company Outlet store in Strasburg on our way home (ok, not really, I also convinced him to drive out of the way for it) and picked up two goodies I had wanted for a very long time.
I had immediately spotted this shadow, Bobbi Brown Pewter and I can't tell you how pleased I was to finally have it. I have a thing for silvery colors, especially ones that aren't pure silver but look more tarnished and this fits the bill perfectly. It's one of BB's Chrome shadows, which I believe were limited edition.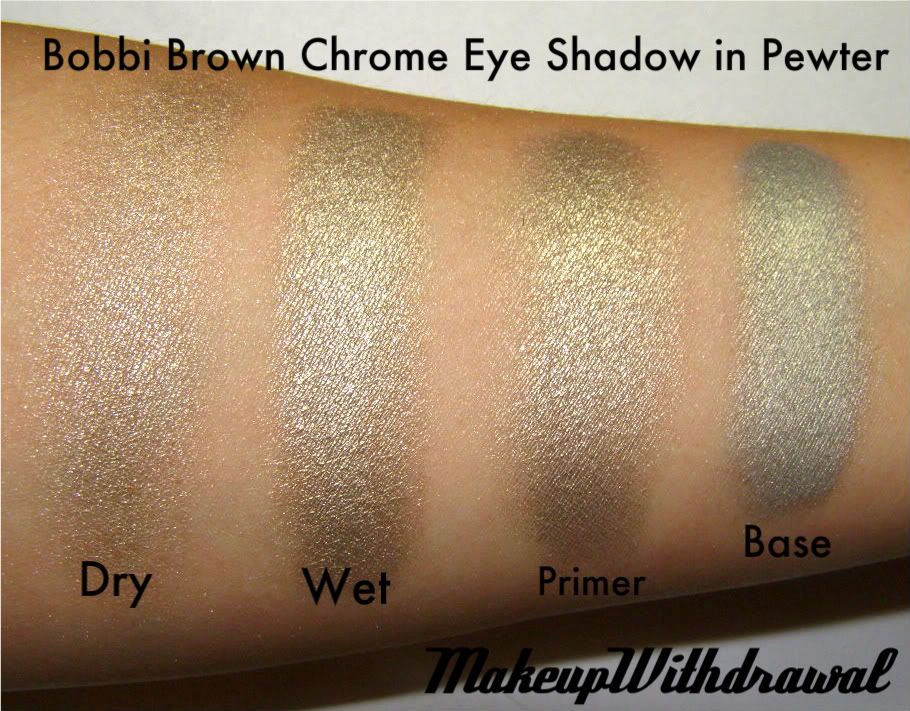 Crappy weather outside, so taken indoors with a natural light bulb!
I love the unique color, it's like a silvery olive. Really, it's got hints of gold, platinum and a slight sage color. I'm almost frustrated by my attempts to describe it because it's very complex. It stayed on all day today when I wore it, I might post FOTD pictures later!
The pigmentation is great as is the texture, the best part is the amount of shadow that you get! BB pans are huge, and actually a good value. Especially considering that I paid $15.50 for Pewter (gotta love CCO prices!).