Rock & Republic (Part 2): Eyeshadows
You know, I'm clearly falling in love with this brand. I can't help it, it's so... sexy. Look at the packaging, just LOOK at these shadows. Hell, I even like the music that's playing on the website (I've had it open on my laptop for like the last hour. Mr. MakeupWithdrawal is sick of the sound).
Well today is Day 2 of Rock & Republic worshiping series, and I want to talk about three of the shadows- Affair, Snakeskin and Tempting. I have another one coming in the mail (I'm shameless, right) but Lawsuit is going to get it's own post for being special, and I'll tell you why when I write about it.
Ok, so back to the shadows. They are housed in cool, metal, sleek (and heavy) packaging, the likes of which I have never owned before. However that also = freaking impossible to keep clean of finger smudges.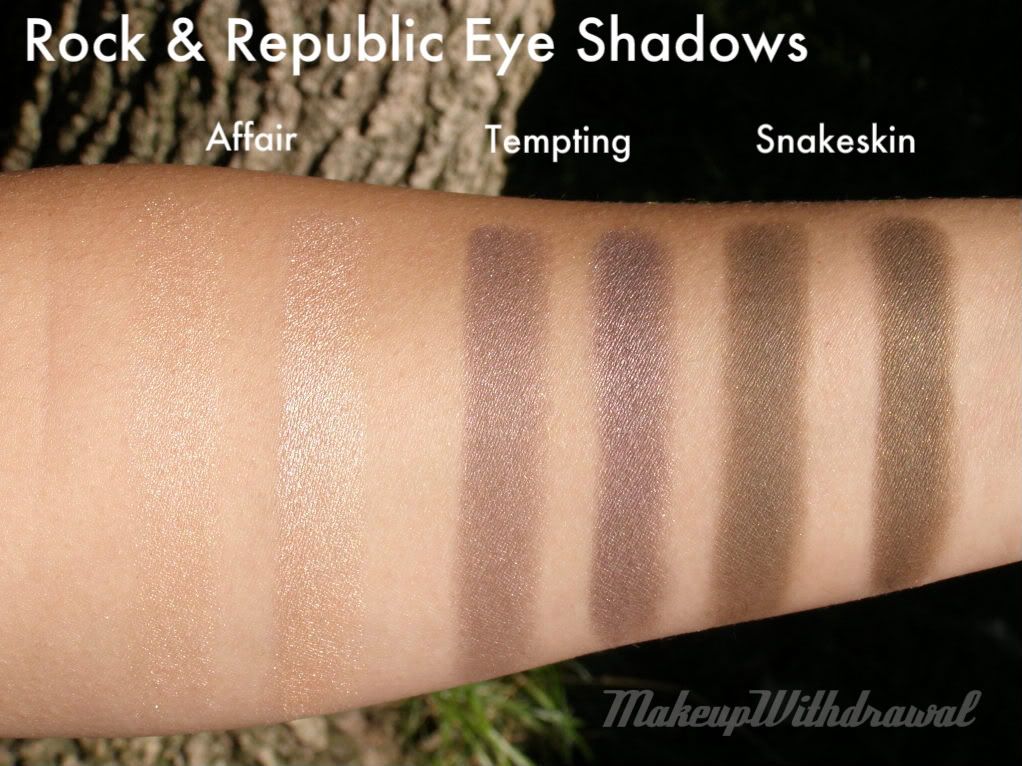 Click to enlarge. Left swatch over bare skin, right side over primer
Affair is a sheer frost light peach color that can still be built up to be quite opaque.
Snakeskin is a khaki shade with it bit of very fine shimmer.
Tempting is a muted purple grey satiny base, but over primer it looks more metallic.
The interesting thing about these shadows is that they're not straight up holy-bat-crap pigmented. But they can definitely be built up, and it doesn't look chalky like you'd expect from piling on eyeshadow. Maybe I'm doing a bad job of explaining it, but let's just say that it's refreshing to have a shadow that can be taken from mild to intesnse in a matter of a few brush strokes. I also have found that compared to all the other brands of shadows I own, these have the least amount of fallout. I can even brush some of the shadow loose in the pan, and flip the eyeshadow upside down and it doesn't fall off in a powdery mess. It just wants to stick to itself- great binding formula.
Full priced, these shadows go for $28 for a big pan of shadow. However, at recent HauteLook sales and even an ongoing R&R site sale, they were half off. I'll reveal how little I paid when I finish up the series about R&R. *wink*